Hollande in Qatar for talks on Syria, economy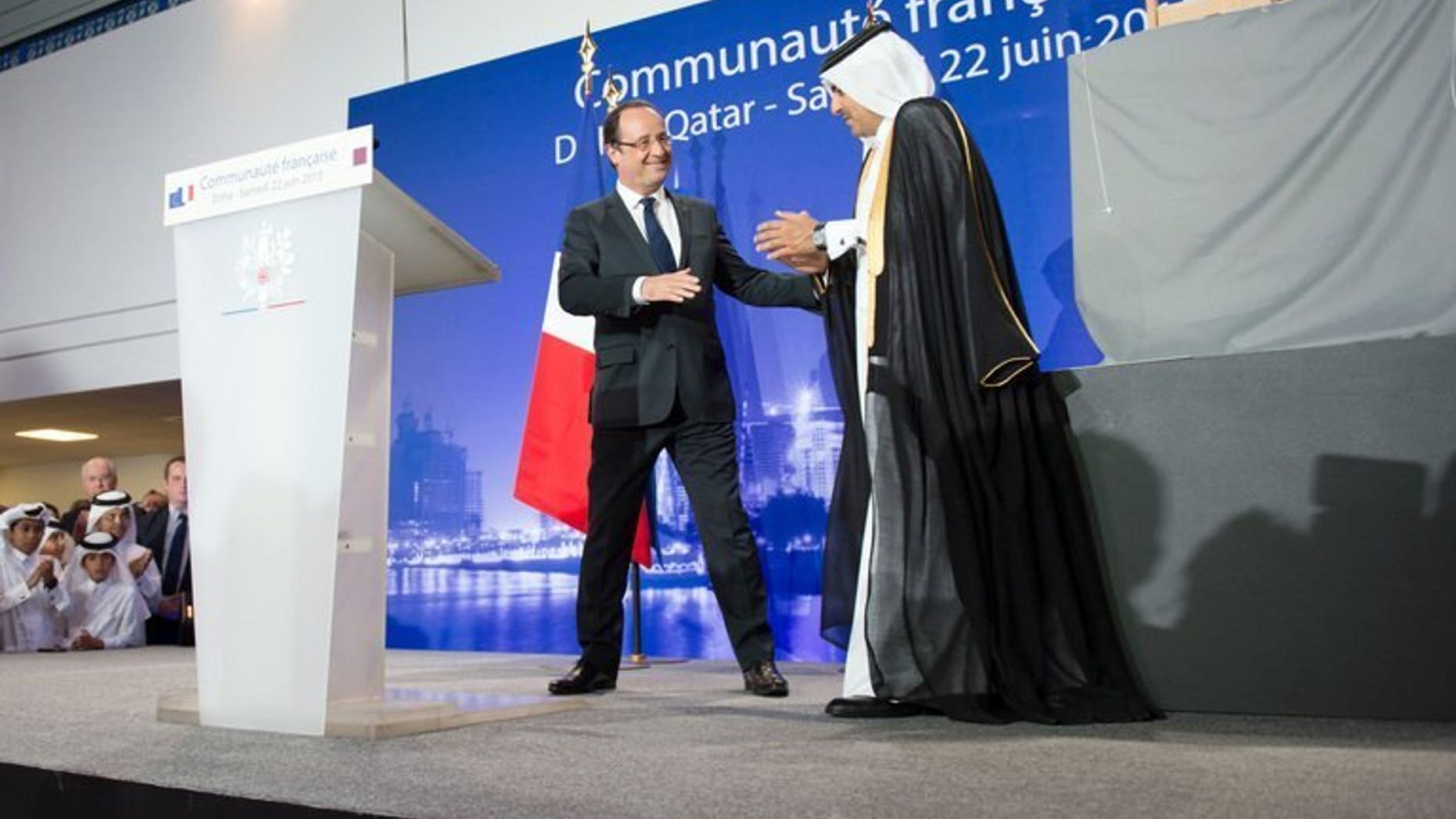 DOHA (AFP) – French President Francois Hollande arrived in Qatar on Saturday for talks on the Syrian civil war and on economic ties with the gas-rich Gulf state.
He landed in Qatar as a "Friends of Syria" meeting there earlier in the day decided to provide urgent military aid to Syria's rebels.
Ministers from Britain, Egypt, France, Germany, Italy, Jordan, Qatar, Saudi Arabia, Turkey, the United Arab Emirates and the United States attended the talks.
They agreed to "provide urgently all the necessary materiel and equipment to the opposition on the ground, each country in its own way in order to enable them to counter brutal attacks by the regime and its allies and protect the Syrian people."
Hollande said during a meeting with the French community in Qatar that he welcomed the decision, which allows "supporting the Syrian opposition."
He said the countries taking part decided to "further strengthen members of the opposition, offer a guarantee to prepare for transition" in Syria, and "head to a conference aimed at finding a political solution."
That was a reference peace talks in Geneva that the United States and Russia have been pushing for.
Yet even as the Friends of Syria prepared to step up their own involvement in a war that has killed nearly 100,000 people, they demanded that Iran and Lebanese Shiite movement Hezbollah stop supporting President Bashar al-Assad's regime.
Britain and France have recently pushed for providing weapons to the rebels but have underscored that this must be done in a responsible manner to avoid the kind of anarchy that took place in Libya after the fall of dictator Moamer Kadhafi.
During his talks with Qatar's Emir Sheikh Hamad bin Khalifa al-Thani, a French diplomat said Hollande will highlight the "need for trust, clarity and coordination" in backing the rebels as Qatar is accused of "supporting Syrian opposition groups it does not know."
The visit is also important economically, as a large delegation of business executives from major French companies are accompanying Hollande, who will speak at the Franco-Qatari Economic Forum in Doha on Sunday.
The matter of "strategic importance" to France, according to the president's entourage, is its Rafale fighter jets, which Paris is trying to sell to Qatar.
The emir is preparing to hand control of Qatar to his son, Crown Prince Sheikh Tamim bin Hamad al-Thani, according to Qatari diplomats and officials.
Hollande will dine with Sheikh Hamad and the crown prince on Saturday evening.
Later on Sunday he travels to Jordan for talks with King Abdullah II.