Germany truck attack that injured 8 probed as possible act of terror, Syrian man detained
Eight people were injured after a Syrian national stole a truck and rammed it into a line of cars in a town in western Germany, authorities said.
Authorities are investigating the possible act of terror and the suspect's background as bystanders told police he spoke of "Allah."
The incident happened late Monday afternoon in the town of Limburg, located west of Frankfurt. Officials said the driver apparently commandeered the truck before driving into a line of eight cars, pushing the vehicles into each other. Seven people were taken to area hospitals but were released during the night, according to police.
The truck's driver told the Frankfurter Neue Presse newspaper the man dragged him out of the vehicle after he stopped at a red light.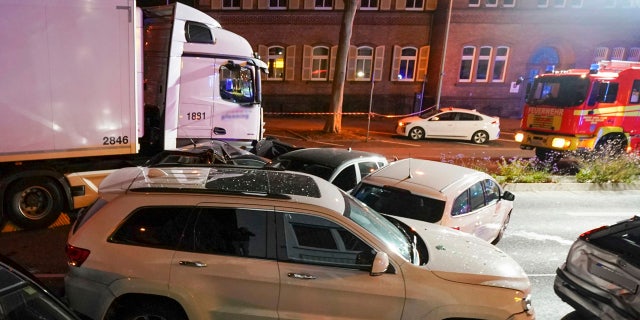 "'What do you want from me?'" the driver told the paper he asked the man. "But he did not say a word. I asked him again. Then he dragged me out of the lorry."
GERMAN BANK ROBBER'S 20-HOUR-LONG COURT RANT CUT OFF BY JUDGE BEFORE PRISON SENTENCE, REPORT SAYS
Several bystanders, including a group of joggers, told the Neue Presse the suspect received first aid after the crash and said "Allah" several times.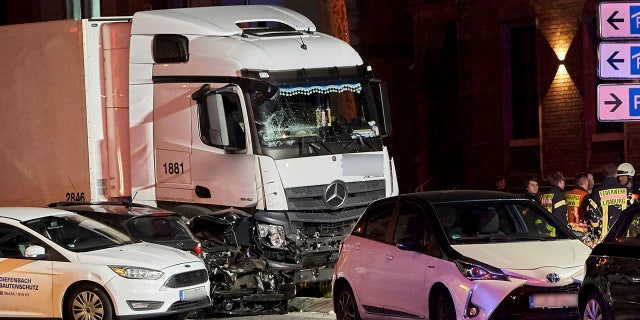 Authorities have said it's not immediately clear whether the crash was accidental or deliberate, and have publicly asked people to not "participate in speculation" until additional information is released.
But public broadcaster ZDF, citing unidentified security authorities, reported Tuesday that officials believe terrorism may have played a role in the incident. News agency dpa, also citing unidentified security sources, reported that the truck driver was a Syrian who arrived in Germany in 2015 and that there was no indication so far of a terrorist motive, but it also can't be ruled out.
Asked what evidence there is of a possible terror attack as he arrived Tuesday at a meeting with European Union colleagues in Luxembourg, Interior Minister Horst Seehofer said that the investigation is underway and "I can't tell you at this point how this act is to be assessed."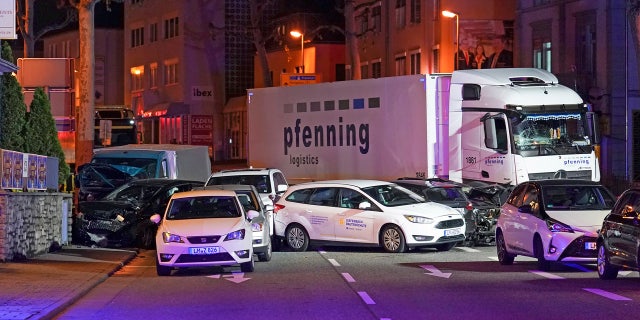 The Syrian national, who was born in 1987, is not known to have made any contact with militant groups or other extremists, dpa reported.
ZEBRA SHOT DEAD AFTER ESCAPING FROM CIRCUS IN GERMANY, CAUSING TRAFFIC ACCIDENT
An apartment in the town of Hesse was being searched early Tuesday, Deutsche Welle reported.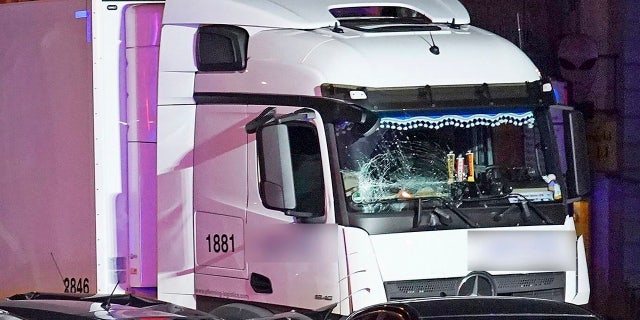 Investigators have concluded their work at the crash scene, and have towed the truck for further examination at a police building.
CLICK HERE FOR THE NEW FOXBUSINESS.COM
Germany has been on high alert in recent years after several truck attacks across Europe by Islamic extremists.
In December 2016, a 24-year-old Tunisian rejected asylum seeker hijacked a truck and killed the driver. He then drove the vehicle through the Christmas market in Berlin, killing a dozen people and injuring more than 50. The attacker escaped Germany but was located by Italian authorities four days later. He was shot by police outside a train station in Milan.
Fox News' Lukas Mikelionis and The Associated Press to this report.