Christmas market attack found them unprepared, German officials say on anniversary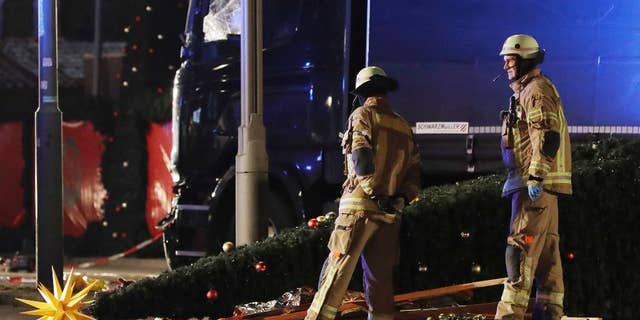 As Germany commemorated the one-year anniversary of a Christmas market attack in Berlin that killed 12 people, government officials admitted Tuesday they were "not sufficiently prepared" to handle the attack and support the victims.
Top German officials were expected to attend an interreligious service along with the relatives and the victims of last year's attack, which was perpetrated by an Islamic extremist.
The mayor of Berlin was to unveil a memorial featuring the names of those who were killed.
But the tribute was expected to be tense amid the disappointment by the survivors and the victims' families, many of whom have said they believe the leaders let them down.
Justice Minister Heiko Maas admitted Tuesday that his government "was not sufficiently prepared for the consequences of such a terrorist attack for those affected."
In an op-ed in the German daily newspaper Tagesspiegel, he added: "For this we can only apologize to the victims and surviving relatives. It remains a never-ending task of politics in a democratic constitutional state to learn from mistakes and to assume our responsibility towards the victims of terror."
The minister's remarks followed German Chancellor Angela Merkel's first-ever meeting with the survivors and families on Monday amid a scathing open letter, which slammed the German leader for not reaching out to them sooner.
The group of survivors also criticized the government after media reports showed how intelligence and security agencies failed to stop the terrorist despite knowing his ties to radical Islamic extremists.
On Dec. 19, 2016, 24-year-old Tunisian rejected asylum seeker Anis Amri hijacked a truck and killed the driver. He then drove the vehicle through the Christmas market, killing a dozen people and injuring more than 50. Amri escaped Germany but was located by Italian authorities four days later. He was fatally shot by police outside a train station in Milan.
Kurt Beck, the government's official commissioner for the victims of the attack, told Deutsche Welle that although everyone anticipated vehicular terror attacks in Germany, he admitted the government was not prepared.
"I believe that, in turn, led an error of judgment," Beck said. "(Then-President) Joachim Gauck spoke to the victims' families, but the chancellor didn't, and the relatives see that as a considerable deficiency."
Asked why Merkel did not speak with the survivors and the victims' families soon after the attack, he added: "I believe she thought that since the president spoke to them, she didn't want to top that — at least that's what she told me. She meant it in good faith, but she misjudged the situation."
The Associated Press contributed to this report.