Fugitive Red Bull heir flew to Singapore before court date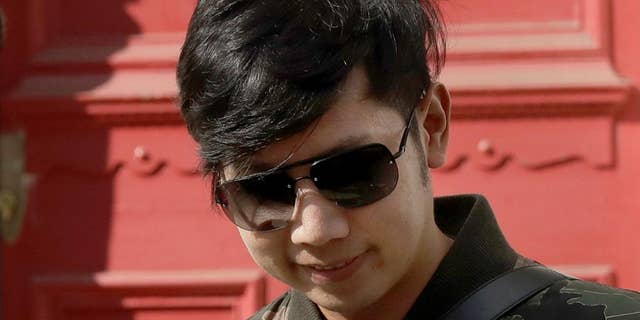 BANGKOK – Thai immigration authorities say the heir to the Red Bull energy drink fortune who is wanted on deadly hit-and-run charges flew to Singapore two days before he was due to appear before prosecutors.
And airport authorities in Singapore confirmed Tuesday his private plane is still there.
When he left Bangkok, Vorayuth "Boss" Yoovidhya, 32, wasn't a fugitive. But on Friday authorities issued an arrest warrant and notified Interpol that he's wanted on charges of causing death by reckless driving and hit and run. Thai police say they don't know if he has left Singapore, and Thailand's foreign minister said he hasn't revoked Vorayuth's passport, which means he still could travel elsewhere internationally.
The arrest warrant came almost five years after Vorayuth allegedly left a motorcycle police officer dead after crashing into him with his Ferrari. His family, half-owners of the Red Bull empire, has an estimated wealth of more than $20 billion.
Police Lt .Gen. Nathatorn Prousoontor, commissioner at the Thai Immigration Bureau, said Tuesday that Vorayuth left Thailand on April 25, at 3 p.m., on a private jet. He left just weeks after an Associated Press investigation found he's been enjoying his family's jet-set life ever since the 2012 accident and days before he was due in court.
When approached a few weeks ago outside a family-owned home in London, Vorayuth refused to comment. Earlier this year AP watched him and his family enjoying a $1,000-a-night vacation in Laos, and saw social media postings of him snowboarding in Japan, attending Grand Prix races with Red Bull and visiting beach resorts in Southeast Asia.
All that time he's been repeatedly telling prosecutors, through his attorney, that he's sick or out of the country on business when called in to face charges.
Nathatorn said Vorayuth was allowed to fly out last week because the trip came before the arrest warrant was issued.
"The prosecutors are handling the case and there was no request to ban his traveling to us," he said. "We only have been informed that the arrest warrant was issued on Friday, April 28, which is after he had left the country."
Although Singapore has no official extradition agreement with Thailand, Interpol officials said police informally can arrange through other means to apprehend him there. Singapore police did not respond with comment immediately.
Friends and family postings on social media show Vorayuth has been in Singapore every year since the accident, often at Formula 1 races, but also celebrating family birthdays and holidays.