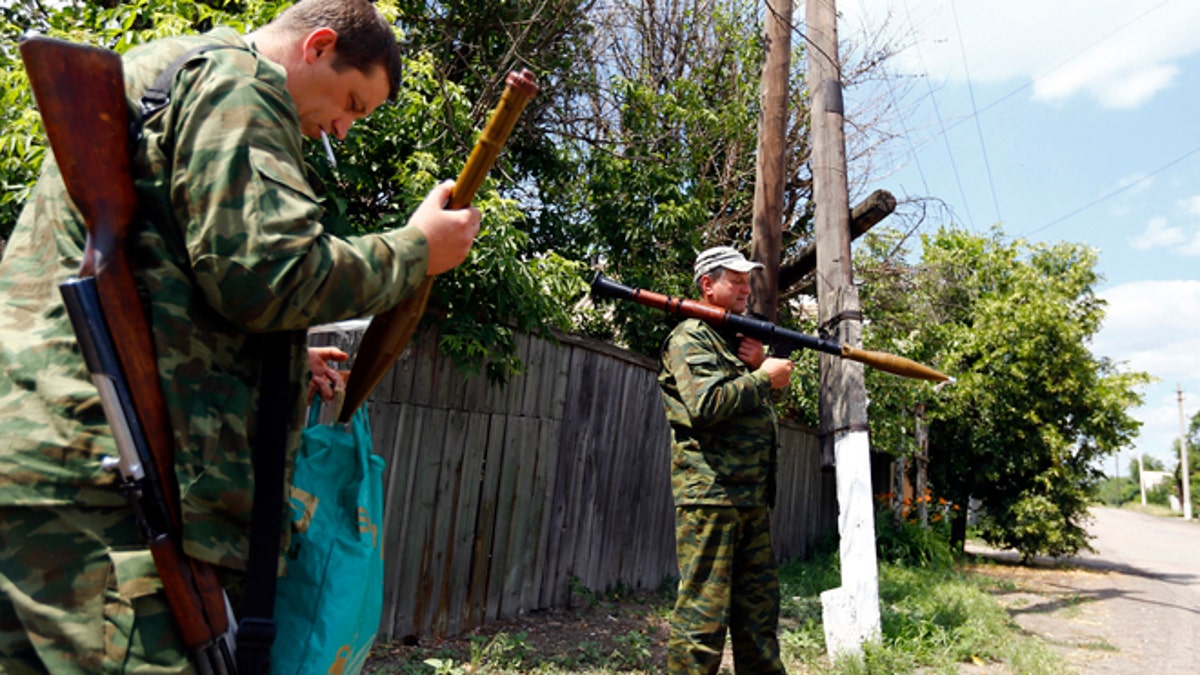 Ukrainian troops and pro-Russian rebels battled in eastern Ukraine Thursday after the separatists rejected a call to lay down their arms, government forces say, as Russia resumed its military buildup near the country's border.
Fighting erupted in the town of Krasny Liman, which was been under government control, according to Reuters.
"We issued an ultimatum to the terrorists overnight to surrender their weapons. We guarantee their safety and investigation in line with Ukrainian law ... They refused," government forces spokesman Vladyslav Seleznyov told Reuters.
"Now we are trying to narrow the encirclement. They are trying to break out," he added.
The fighting came a day after Ukrainian President Petro Poroshenko promised a unilateral cease-fire to end the fighting.
"There's a major battle going on which exceeds in terms of force and scale anything there has been up to now," a military source told Reuters.
Another military source said 4,000 rebels were involved in the fighting, while a top rebel commander, Igor Strelkov, reported "heavy losses" in equipment and arms.
"We beat off the first attack and destroyed one tank. But it is difficult to take on 20 tanks. The battle is going on," Strelkov told Reuters.
Seleznyov said in a statement posted on Facebook that four government troops were killed and 20 wounded in fighting Thursday. He said up to 200 rebels were killed and hundreds more were wounded in the battle. That statement could not be independently confirmed.
Strelkov said in a statement on YouTube that his men were far outnumbered and outgunned by Ukrainian forces and were likely to retreat from their positions in Yampil and Seversk near Krasny Liman. He said the Ukrainian military advance would completely cut rebel supply lines to Slovyansk and issued a desperate plea to the Kremlin for military assistance.
"I hope that they have enough conscience left in Moscow to take some measures," Strelkov said.
A woman in the village of Yampil said a column of armored vehicles bearing Ukrainian flags rolled through the streets Thursday. Overnight, planes flew over the village amid the sounds of heavy weaponry, she added.
Meanwhile, Russia has resumed a military buildup near Ukraine, NATO Secretary General Anders Fogh Rasmussen said Thursday, calling it "a very regrettable step backward."
"I can confirm that we now see a new Russian military buildup -- at least a few thousand more Russian troops deployed to the Ukrainian border, and we see troop maneuvers in the neighborhood of Ukraine," Rassmussen said in London.
"If they're deployed to seal the border and stop the flow of weapons and fighters that would be a positive step. But that's not what we're seeing."
Instead, the NATO chief said, Russia appears bent on using its military to intimidate Ukraine further.
"I consider this a very regrettable step backwards and it seems that Russia keeps the option to intervene further," Rasmussen said. "So the international community would have to respond firmly if Russia were to intervene further. That would imply deeper sanctions which would have a negative impact on Russia."
NATO estimated at one point there were up to 40,000 Russian forces deployed near the border with Ukraine, but reported last month that many of the soldiers and their equipment had been pulled back.
In his speech, Rasmussen said the U.S.-led NATO alliance is at a turning point.
"The world that we helped to build after the end of the Cold War is being challenged in different ways and from different directions," he told his audience at Chatham House.
"To our east, Russia's aggression against Ukraine is an attempt to rewrite international rules and recreate a sphere of influence. At the same time, to our south, we see states or extreme groups using violence to assert their power. And overall, we see threats old and new, from piracy to terrorism to cyber-attacks."
The Associated Press contributed to this report.