Feds to Sheriff Joe Arpaio: 'We won't settle contempt-of-court case'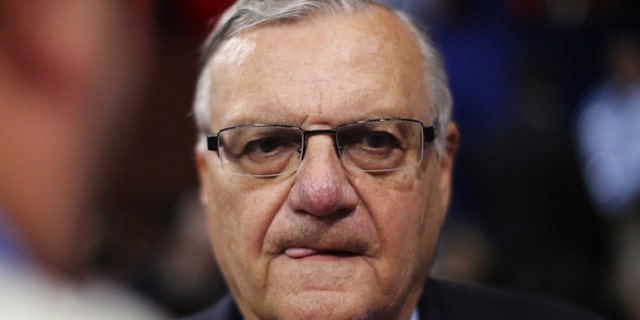 PHOENIX (AP) – Federal prosecutors have declined to participate in talks to settle contempt-of-court proceedings against Maricopa County Sheriff Joe Arpaio and some of his top aides for violating court orders in a racial profiling case.
Arpaio's attorney had hoped to settle the contempt case before court hearings in late April to examine the violations.
The hearings will examine violations of a December 2011 pretrial injunction that barred Arpaio's officers from detaining people based solely on the suspicion that they're in the country illegally. The judge has said Arpaio's managers never told rank-and-file members of his immigrant smuggling squad about the ruling, leaving officers to violate the order for 18 months.
The hearings also will examine a botched effort by the sheriff's office to gather videos of traffic stops that were supposed to be turned over in the profiling case.
The case's judge says a settlement would be acceptable only if it resolves both the civil and criminal contempt-of-court proceedings against the sheriff. A finding of civil contempt carries fines as a penalty, while a criminal contempt ruling could bring both jail time and fines.
While a civil contempt case is currently being pursued, no criminal contempt case has been filed. Still, the case's judge has raised questions about whether civil contempt will adequately address the violations and has said he may seek a criminal contempt case against the sheriff.
Federal prosecutors who would be appointed to push any criminal contempt case say it's premature for them to get involved until the judge makes a request for them to pursue such a case.
They also said any deal that settles both criminal and civil contempt cases raises ethical issues because the government can't be perceived as trading money for relief from prosecution.
An attorney now representing Arpaio has acknowledged the sheriff's office made errors but said there's no basis to bring a criminal contempt case that could expose Arpaio to fines and jail time.
The Arpaio aides who are facing contempt cases said they weren't responsible for failing to tell rank-and-file officers about the 2011 injunction.
In a May 2013 ruling, the case's judge found the sheriff's office had systematically singled out Latinos in its patrols.
Like us on Facebook
Follow us on Twitter & Instagram