Federal jury found four guilty in one of Puerto Rico's biggest corruption cases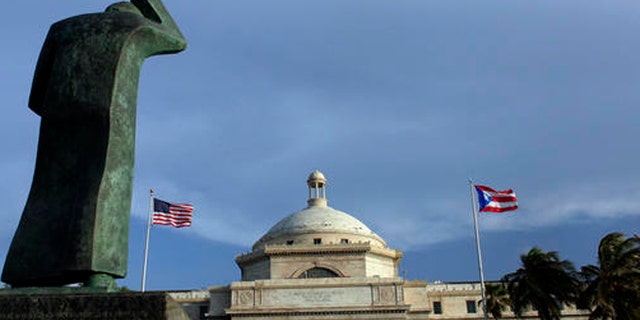 SAN JUAN, Puerto Rico (AP) – A federal jury on Friday found four people guilty on all charges in one of Puerto Rico's biggest public corruption cases in the past decade. They were the last of the 10 people to be charged and convicted in the fraud scheme that generated some $2 million.
Ivonne Falcon, a former vice president and treasurer of Puerto Rico's heavily indebted water and sewer company, and Sally Lopez, a former director of the island's Administration of Workforce Development, were found guilty of charges including bribery and conspiracy to commit wire fraud and federal programs fraud. They could get up to 80-100 years in prison.
Falcon's sister, Marielis Falcon, and Glenn Omar Rivera, who worked in the administrative office of the island's House of Representatives, were also found guilty.
Their attorneys said they will appeal.
Douglas Leff, special agent in charge of the FBI's San Juan division, said in a phone interview that he was pleased with the verdicts.
"It's the most significant public corruption conviction we've had in at least a decade," he said, adding that federal agents in Puerto Rico are pursuing other similar cases. "There'll be more coming in the near future."
Friday's verdicts come amid a punishing economic crisis and revelations of government excesses and corruption that have angered Puerto Ricans.
At the center of the scheme was businessman Anaudi Hernandez, a one-time campaign fundraiser for the governor's Popular Democratic Party. He was accused of offering public officials items such as expensive meals, fountain pens and concert tickets in exchange for political favors and government contracts. He has since pleaded guilty after also being accused of using his connections with high-ranking government officials, including the brother of Gov. Alejandro Garcia Padilla, to appoint people to certain positions.
The case has dealt several blows to the U.S. territory's ruling party. The speaker of Puerto Rico's House of Representatives recently stepped down, and one senator said she would not seek re-election during next month's general elections.
The four people found guilty on Friday will remain free on bond until sentencing, scheduled for early February.