Family: Oscar Pistorius' brother out of ICU, had suffered respiratory failure after car crash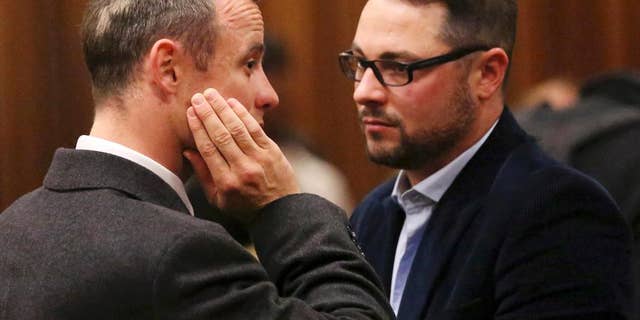 NEWYou can now listen to Fox News articles!
STELLENBOSCH, South Africa – A family spokeswoman says Oscar Pistorius' brother has been discharged from a hospital intensive care unit after suffering internal injuries and going into respiratory failure following a car crash.
Family spokeswoman Anneliese Burgess issued a statement on Tuesday that Carl Pistorius made "a miraculous recovery" after the head-on collision on a highway in northern South Africa on Aug. 1.
The family released details of some of Carl's injuries for the first time, saying he sustained lacerations to his heart and liver and went into respiratory failure. He was also reported to have suffered multiple fractures.
Burgess said Carl Pistorius, the older brother of double-amputee Olympian Oscar, will remain in the hospital for around two more weeks.
A judge will deliver a verdict in Oscar Pistorius' murder trial on Sept. 11.