Ex-IMF chief Strauss-Kahn to face pimping trial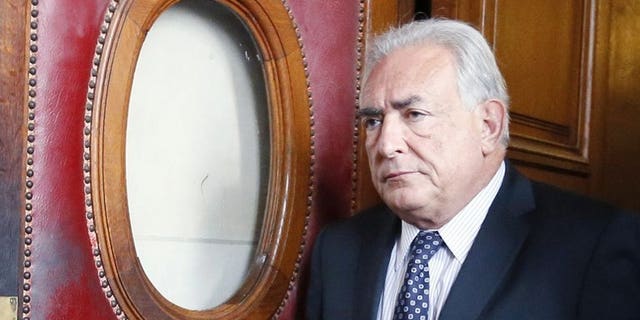 LILLE, France (AFP) – Former IMF chief Dominique Strauss-Kahn will face trial on pimping charges along with 12 others over an alleged prostitution ring in the French city of Lille, prosecutors said Friday.
Strauss-Kahn was charged last year with "aggravated pimping as part of an organised gang" in the so-called "Carlton affair" -- one of a string of lurid cases that came to light after he resigned from the Washington-based International Monetary Fund over an alleged sexual assault on a New York hotel maid.
The case centres on allegations that business leaders and police officials supplied prostitutes for sex parties in Lille, some of which are said to have taken place at the city's Carlton Hotel.
Prosecutors in June called for the charges against Strauss-Kahn, 64, to be dropped, saying there was insufficient evidence to proceed to trial.
But in a statement Friday, the Lille prosecutors' office said investigating magistrates had ordered Strauss-Kahn and the other defendants to face trial, though on the lesser charge of "aggravated pimping as part of a group".
The charge is punishable by up to 10 years in prison and a fine of up 1.5 million euros ($2 million).
Another person will face charges as an accomplice to fraud, prosecutors said.
It was unclear whether prosecutors would appeal the decision to proceed to trial. In the French legal system, investigating judges can overrule recommendations from prosecutors and force them to take suspects to trial.
In a statement issued by his lawyers, Strauss-Kahn said he had been expecting the case to be sent to trial and would appear before the court.
One of Strauss-Kahn's lawyers, Richard Malka, denounced the decision to go to trial as part of a "relentless" judicial campaign against his client.
He said Strauss-Kahn's legal team would use the trial "to denounce the absurdity and abnormality of this aggravated pimping complaint".
The decision to send his client to trial was based on "ideological, political and moral motives, but certainly not grounded in a legal analysis of the facts".
Strauss-Kahn, who before the scandals was considered a top candidate of the Socialist party for the French presidency, admitted to attending sex parties in France and the United States but said he did not know some of the women were being paid.
In December, Strauss-Kahn agreed to pay undisclosed damages -- reportedly in excess of $1.5 million -- to Nafissatou Diallo, the New York hotel maid whose 2011 allegation of sexual assault forced him to resign from his IMF job and wrecked his chances of becoming French president.
Strauss-Kahn admitted a sexual encounter took place but said it was consensual. A criminal investigation into the incident collapsed after the maid changed her version of events, leading prosecutors to conclude there was little chance of a conviction.
The Lille pimping case was one of a series of investigations launched in the aftermath of Strauss-Kahn's arrest in New York.
French writer Tristane Banon accused him of trying to rape her in 2003 but investigators concluded that, while there was evidence of sexual assault, the alleged attack had occurred too long ago to be prosecuted.
Strauss-Kahn was also investigated over an allegation that he had taken part in the gang rape of a Belgian prostitute. The case was dropped when she recanted and said she had consented to sex.
In an interview with CNN this month, Strauss-Kahn said he did not have "any kind of problems with women" and denounced his treatment by the US justice system.
In recent months Strauss-Kahn has sought to return to public life, appearing at economic conferences in France and abroad, and setting up an office in Paris's Montparnasse district.
He even appeared on the red carpet at the Cannes Film Festival in May with a new girlfriend, after separating from his wife Anne Sinclair, a well-known French journalist and wealthy heiress.