Ex-Guantanamo detainee who disappeared in Uruguay shows up in Venezuela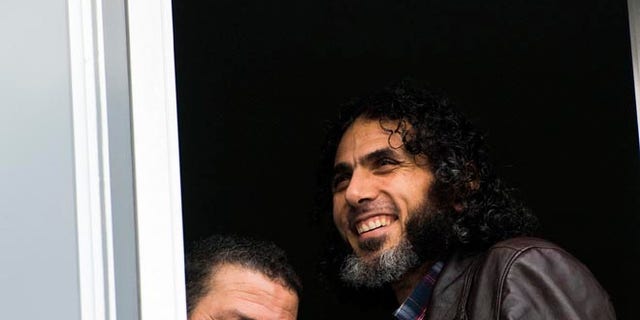 NEWYou can now listen to Fox News articles!
MONTEVIDEO, Uruguay (AP) – A resettled former Guantanamo prisoner who disappeared last month in Uruguay, setting off alarm bells in neighboring countries and recriminations in Washington, has reappeared in Venezuela, the government said Wednesday.
Foreign Minister Rodolfo Nin Novoa told The Associated Press that Syrian native Abu Wa'el Dhiab showed up at Uruguay's consulate in Caracas. Consulate officials refused to provide information or entry to AP journalists gathered outside.
Late Thursday, the Foreign Ministry issued a statement saying Dhiab told the consulate he wanted to move to Turkey or another country where he could reunite with his family.
"He expressed clearly that in no case was he interested in returning to Uruguay, but required the assistance of our country for his proposal," the statement said.
Dhiab, who has repeatedly expressed his unhappiness at his life in Uruguay, previously accused the government of breaking its commitment to bring his family.
He is one of six former Guantanamo prisoners who were resettled in Uruguay after being released by U.S. authorities in 2014, invited by then President Jose Mujica as a humanitarian gesture.
The men had been detained in 2002 for suspected ties to al-Qaida. They were held without charge like hundreds of others at Guantanamo before the U.S. government cleared them for release. There are no charges against Dhiab or order for his arrest, and Uruguayan officials had said that as a refugee he has the right to leave the South American country.
Dhiab had last been reported seen in Chuy, a small city on the Uruguay-Brazil border that is home to an Arab community. Residents said he visited the makeshift mosque of the local Arab club where he prayed and slept before he was reported missing.
His disappearance raised concerns, as well as questions about how closely countries that resettle former Guantanamo inmates should watch them and for how long, as the United States prepares to release more prisoners.
U.S. lawmakers trying to block President Barack Obama from closing the detention center recently scolded his administration for losing track of Dhiab. The U.S. envoy in Montevideo also expressed concerns about the lack of information on his whereabouts. Ambassador Kelly Keiderling said it was up to Uruguay to say whether Dhiab can travel, though she added that she would prefer he stay in Uruguay. When questioned at a news conference, she said Dhiab "could be, yes, theoretically," a threat.
Colombia-based Avianca Airlines recently issued an internal alert saying Dhiab could be using a fake passport trying to enter Brazil, the site of the summer Olympics. The airline said the alert was issued based on information provided by Brazil's federal police, which had been looking for Dhiab.
The Uruguayan government has provided social services and financial support to Dhiab and the five other former detainees — three others from Syria, a Tunisian and a Palestinian. But the men have struggled to adjust and have complained about not getting enough help from Uruguayan officials.
Dhiab was the most vocal about his unhappiness. Last year, he visited neighboring Argentina. In an orange jumpsuit like those Guantanamo prisoners have worn, he told news media in Buenos Aires that he planned to seek asylum for himself and the other detainees still held at the U.S. naval base in eastern Cuba.
In an interview with the Uruguayan magazine Busqueda, Dhiab said he was never a terrorist, but sympathizes with al-Qaida because of the torture that he endured in Guantanamo.
Jon Eisenberg, a U.S. lawyer who represented Dhiab while he was detained at Guantanamo, said he had not been in contact with the former prisoner since a phone call in June.
Eisenberg said Dhiab was very concerned about his wife and three children, who fled the Syrian civil war for Turkey but then had to return to their homeland for financial reasons. They were in a Syrian village that was bombed by government forces in November 2015.
The lawyer said that when he last spoke with the former prisoner, Dhiab was hopeful that his family might be brought to Uruguay.
"That's why I thought he wouldn't leave Uruguay," Eisenberg said.
Like us on Facebook
Follow us on Twitter & Instagram