EU's Tusk likens Polish govt to contemporary 'Bolsheviks'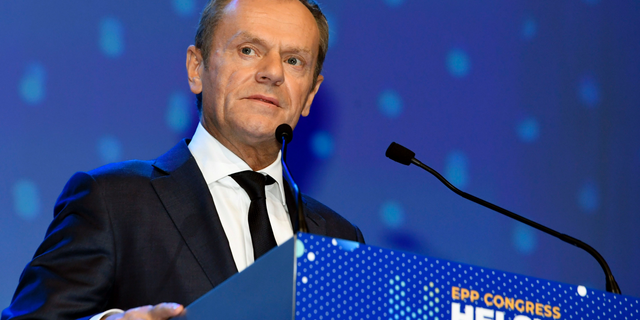 WARSAW, Poland – European Council head Donald Tusk, a former Polish prime minister, on Saturday denounced the euroskeptic populists governing Poland as "contemporary Bolsheviks" who threaten the nation's independence, but can be defeated.
Tusk, seen as a likely contender in Poland's 2020 presidential election, spoke in the city of Lodz on the eve of the 100th anniversary of the country regaining its statehood at the end of World War I after 123 years of foreign rule.
He honored the statesman who restored Polish independence and then as chief of state went on to defeat the Bolsheviks' Red Army in 1920, Marshal Jozef Pilsudski. He also paid homage to Lech Walesa, the Solidarity trade union founder who challenged Poland's Soviet-backed communist rule during the 1980s and went on to become president from 1990 to 1995.
"Jozef Pilsudski was facing a more difficult situation than we have today when he was conquering the Bolsheviks and in fact, defending the Western community against political barbarians," Tusk said during an independent anniversary forum.
"Walesa had a more difficult situation when he was conquering the Bolsheviks in a symbolic way, when he was bringing out the European, the freedom, the national values in us. But he managed," he continued.
"Why shouldn't you be able to defeat the contemporary Bolsheviks?" Tusk said to great applause.
He appealed for Poles to defend their rights, freedom and to "defend Poland's independence."
He criticized the government led by the conservative Law and Justice party, which has repeatedly clashed with European Union leaders, as a threat to Poland.
"Whoever today in Poland takes steps against our strong position in a united Europe is really taking steps against Poland's independence," Tusk said.
Tusk's appointment to the EU job in 2014 partly was in recognition of his liberal government's pro-EU policies. He warned Saturday that the government now influenced by Law and Justice head Jaroslaw Kaczynski, Tusk's political foe, is moving in the opposite direction.
In hopes of preventing anything from marring the centennial commemorations, Polish government officials negotiated a deal to hold a joint march in Warsaw on Sunday with nationalist groups that had planned their own event.
Past independence day marches held by far-right nationalists featured racist slogans, white supremacist symbols and aggressive behavior.