EU: Yanukovych Trip to Brussels Canceled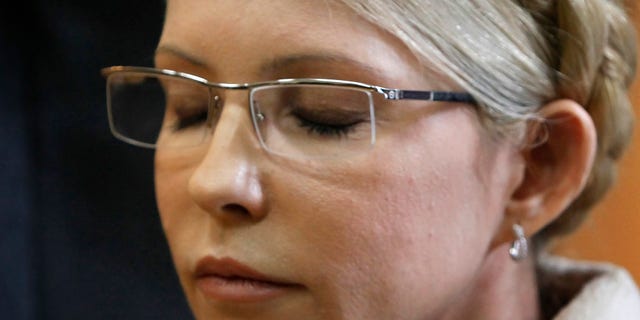 KIEV, Ukraine-- The European Union on Tuesday delayed a key visit by the Ukrainian president after signals that the country's jailed former prime minister, opposition leader Yulia Tymoshenko, will not be released soon.
The decision could strengthen Russia's hand in trying to lure Ukraine back into its sphere of influence. Ukrainian President Viktor Yanukovych met with his Russian counterpart Tuesday to discuss economic cooperation and natural gas imports.
Tymoshenko was sentenced to seven years in prison last week on charges of abuse of office in the signing of a natural gas import contract with Russia in 2009. She dismissed her trial as Yanukovych's attempt to bar her from parliamentary elections next year. The U.S. and the EU have condemned the conviction as politically motivated.
Yanukovych had been slated to travel to Brussels Thursday for talks on a long-awaited free-trade agreement with the 27-nation bloc, but the EU announced that the trip has been postponed until "a later occasion when the conditions will be more conducive to making progress on the bilateral relations."
"Ukraine has to make improvement on important issues, such as the rule of law and the independence of the judiciary," said Dirk De Backer, spokesman for EU President Herman Van Rompuy.
The postponement of Yanukovych's visit to Brussels follows indications from Kiev that Tymoshenko would not be quickly released based on legal amendments that would turn her misdemeanor from a criminal offense to a milder economic violation as her supporters and Western officials had hoped.
Pro-Yanukovych lawmakers refused to consider a relevant bill Tuesday morning and Yanukovych indicated in an interview with U.S. and European newspapers published Tuesday that passing those legal reforms would take time.
Speaking after Yanukovych's trip was put off, Oleksandr Yefremov, the head of the pro-Yanukovych faction in parliament, took an even harder stance, saying his party would not back the legal change altogether.
"First of all, we don't change legislation for one person," Yefremov said in a statement posted on the party's Web site. "Second, if we annul that legal provision, we will automatically absolve public servants of responsibility for misusing the budget."
Both Kiev and Brussels sought to downplay the postponement of Yanukovych's visit, saying negotiations on the trade agreement were still continuing.
"We are continuing to work with Ukraine," said EU Commission spokeswoman Karolina Kottova.
Ukraine's Foreign Ministry spokesman Oleh Voloshin said the nation regrets the visit's postponement "because our goal is to continue cooperation with the EU."
The development could boost Russia's influence over Ukraine as it tries to get Kiev join a Moscow-led economic group that would come at the expense of a free trade agreement between the EU and Ukraine. Moscow has offered to lower prices for natural gas to lure Ukraine into joining the group.
Russian President Dmitry Medvedev met with Yanukovych Tuesday in the eastern Ukrainian city of Donetsk to discuss economic cooperation, while Russia's Prime Minister Vladimir Putin was set to meet separately with his Ukrainian counterpart at a forum of ex-Soviet nations in St. Petersburg.
Yanukovych and Medvedev both said that talks on Ukraine joining the Moscow-led customs union are continuing, but didn't gave further details. Yanukovych also said he hopes that negotiations on Russian natural gas imports would be concluded in the near future.
Timothy Ash, London-based head of emerging market research at Royal Bank of Scotland said that the EU snubbing of Yanukovych could give an "interesting dynamic" to Russia-Ukraine talks.
"Will the apparent fissure in the relationship with the EU encourage Russia to offer concessions over energy to bring Ukraine back within the Russian sphere of influence?" Ash asked.