'El Chapo' blue shirt becomes a fashion sensation, sales skyrocket in L.A. shop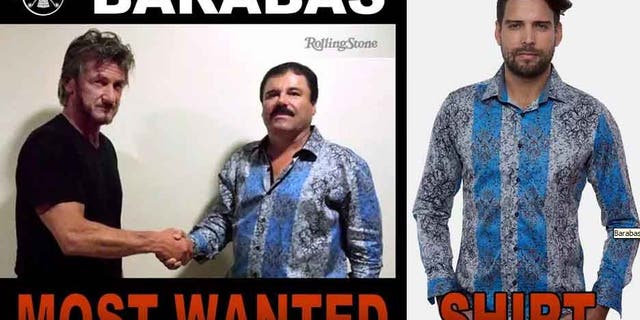 Los Angeles – When he first saw photos of Joaquin "El Chapo" Guzman being interviewed by actor Sean Penn, Iranian born Shawn Esteghbal almost jumped with joy.
The world's most powerful drug trafficker was wearing two shirts from his store in downtown Los Angeles, called Barabas.
"It was just amazing, such a great feeling," the 28-year-old told Fox News Latino.
Immediately, the two photos from Rolling Stone magazine went up on the store's website, with Guzman wearing what is now being advertised as "Barabas El Chapo Shirts": two button-up tops, one with vertical blue stripes, the other a garish paisley.
Since then, sales for the shirts, at a price of $128 each, have skyrocketed, said Esteghbal.
"It's been crazy. People are calling on the phone off the hook, they want both shirts and they want other styles of our shirts as well," he added.
Traffic on the store's website has been so high that the site went down a couple of times, he explained.
"People like it, people like to dress like him," said Esteghbal, who started his men's fashion business in 2007 with his brother Sam, age 38.
"A lot of people like him, he has a lot of fans and a lot of people hate him."
Now there is even a promotion: visitors that like the store's website on Facebook get a chance to win the "El Chapo Shirts."
Esteghbal adds that his store's clothing is very popular in Mexico and in the United States.
"We have over 1,000 different kinds of shirts. We have over 5,000 customers. It just had to happen that El Chapo liked one of our shirts," he said.