EgyptAir hijacker arrested in Cyprus; officials call him an 'idiot,' not a terrorist
Police arrested a lovestruck "idiot" who wore a fake suicide belt and forced an EgyptAir passenger jet to land in Cyprus Tuesday morning, government officials confirmed, ending a bizarre and frightening hijacking that stretched on for hours.
The president of Cyprus, Nicos Anastasiades insisted it was not terrorism, with another government official saying the man "seems (to be) in love."
Police said he demanded a meeting with his ex-wife, with whom he has four children. He reportedly gave negotiators the name of a woman who lives in Cyprus and asked to give her an envelope.
"Terrorists are crazy but they aren't stupid. This guy is."
Witnesses told state TV he tossed a letter for the woman onto the tarmac. The couple divorced in 1994, police add.
At one point the hijacker demanded the release of women held in Egyptian prisons, but he then dropped the demand and made others. "His demands made no sense or were too incoherent to be taken seriously," Cyprus' Foreign Minister Ioannis Kasoulides told reporters, adding that the contents of the letter also were incoherent.

"He's not a terrorist, he's an idiot," Egypt's foreign ministry said in a statement to a Cairo-based journalist quoted by Reuters. "Terrorists are crazy but they aren't stupid. This guy is."
One photo that spread online appeared to show the hijacker posing with a smiling man onboard. British media identified the passenger as 26-year-old Ben Innes from Leeds.
"Ben is a wild man and this is totally in character for him," an unnamed friend told The Telegraph.
Egypt's Interior Ministry identified the suspect as 58-year-old Seif Eddin Mustafa. It said he has a long criminal record, with charges including forgery, theft and drug possession. He had also served time in prison, it said.
A police official said the hijacker walked off the plane and was taken into custody by special anti-terrorism police. He said the man wore a belt but there were no explosives in it. Police in Cairo were questioning the hijacker's relatives, Sharif Faisal, the police chief for the industrial suburb of Helwan, told The Associated Press.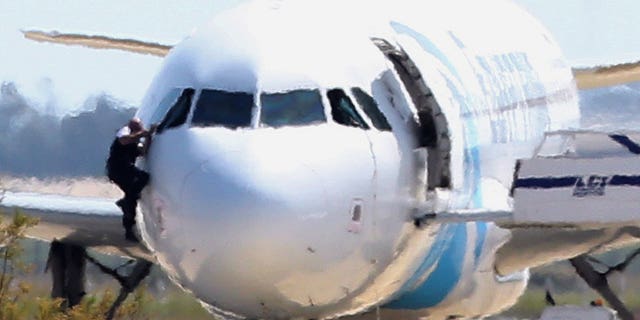 The hijacker forced the EgyptAir Airbus A320, which left from Alexandria, to land more than 300 miles away at Larnaca airport on the southern coast of Cyprus. The flight was scheduled to land in Cairo. At least 55 passengers were on board.
Egyptian passenger Farah el-Dabani told the Dubai-based Al-Arabiyah TV network that the suspect was seated in the back of the aircraft and that it was the crew who told passengers that the plane was being hijacked. "There was panic at the beginning, but the crew told us to be quiet. They did a good job to keep us all quiet so the hijacker does not do anything rash," she said in a telephone interview.
He initially released most of the passengers, but kept three as well as four members of the cabin crew for several additional hours. One of the last people to get off the plane, reportedly a crew member, escaped through a cockpit window and slid down to the ground.
The director of the Alexandria airport, Hossni Hassan, said there were 26 foreigners on board, including eight Americans, four Britons, four Dutch, two Belgians, a French national, an Italian, two Greeks and one Syrian. He said three other foreigners could not be identified.
Sky News reported that the short-haul Flight 181 took off from Alexandria at 8 a.m. Cyprus time. The hijacker contacted the control tower in Lanarka 30 minutes later and was given permission to land.
The plane landed at the airport in Larnaka at approximately 8:45 a.m. local time.
Ian Petchenik, a spokesman for flight-tracking website FlightRadar24, said the flight showed no signs of distress on its route to Cyprus. "It looks like a completely controlled flight aside from the fact it was hijacked," Petchenik said.
Reuters, citing an Israeli military source, reported that Israel scrambled warplanes in its airspace as a precaution in response to the hijacking.
The hijacking again calls attention to security at Egyptian airports, five months after a Russian aircraft crashed over Egypt's Sinai Peninsula minutes after it took off from Egypt's Red Sea resort of Sharm el-Sheikh. All 224 people on board were killed in the crash. Russia later said an explosive device brought down the aircraft and the Islamic State terror group claimed it downed the plane.
The Associated Press contributed to this report.