Dozens of bushfires flare in Australia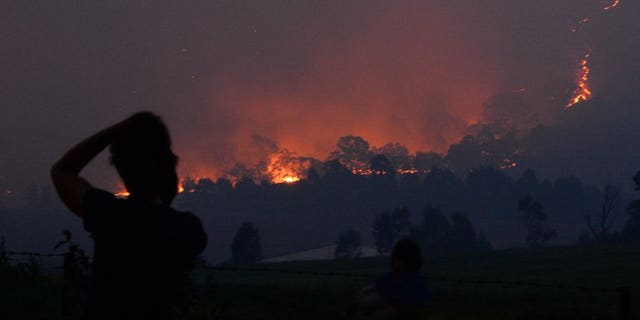 NEWYou can now listen to Fox News articles!
SYDNEY (AFP) – Dozens of bushfires erupted in Australia on Tuesday with six firefighters injured battling fierce infernos in western Sydney that destroyed two homes and which officials said could signal a difficult summer.
Some 60 fires flared in the country's most populous state of New South Wales, aided by temperatures above 30 degrees Celsius (86 degrees Fahrenheit) and gusting winds, with water-bombing helicopters being used to tackle the danger.
"Currently 40 fires burning in NSW not contained. Fire behaviour very erratic. People need to keep monitoring situation rapidly changing," tweeted NSW Rural Fire Service Deputy Commissioner Rob Rogers.
Several blazes on Sydney's western fringes prompted emergency warnings in the early afternoon with news footage showing black smoke billowing over homes and at least three vehicles going up in flames.
"It's scary... knowing it could go any minute now is making me really emotional," Melinda Millard told reporters as she rushed to a property in the Sydney suburb of Castlereagh to help rescue some horses from one of the biggest blazes.
A cool change late Tuesday brought some relief, allowing officials to downgrade all but one of the four emergency warnings areas, with a fire at Winmalee at the base of the Blue Mountains of most concern.
But by then one home had been destroyed at Winmalee and another at Marsden Park and several firefighters injured.
"Six have suffered smoke inhalation. One taken to hospital for observation," the NSW Rural Fire Service said. Another firefighter was later taken to hospital for observation after complaining of chest pains.
The fire services assistant commissioner Steve York said it would probably be several days before the Winmalee fire was downgraded.
"But with the easing weather conditions over this evening and hopefully tomorrow, that will give firefighters an opportunity to do a lot of containment work that we need to do to get these fires under control," he said.
York said that the cause of all the fires, as yet unknown, would be investigated but he said the lack of rainfall in Sydney for several weeks, combined with the high temperature and strong winds, had impacted on the fire behaviour.
"Obviously the predictions have been that the season could be challenging and I guess today we saw the commencement of that," he said.
State Premier Barry O'Farrell told parliament more than 500 firefighters were responding to the blazes, which follow 27 dry days in Sydney and mark a very early start to the bushfire season, only 10 days after the official end of winter.
Australia has just experienced its warmest 12 months on record, with the last summer witnessing an unprecedented heatwave, as well as bushfires and floods, seeing a government commission dub it an "Angry Summer".
Prime Minister-elect Tony Abbott, who won power in national polls on Saturday and is a volunteer firefighter, tweeted his concerns about the bushfires.
"Bushfire situation in NSW a real worry. My thoughts are with local communities impacted and fellow RFS personnel on the frontline," he said.
By late Tuesday some 200 firefighters were still battling a 980-hectare (2,420-acre) fire around Castlereagh and Londonderry north west of Sydney although there was no direct threat to property in that area.
At Windsor a grass fire was burning under strong northerly winds and there was potential for it to impact on properties, while at Marsden Park more than 70 fire personnel were working to contain a 10-hectare grass fire.
"It's important that people do use this opportunity to focus their minds on the impending fire season, which is not months away, it is with us now," said NSW Emergency Services Minister Mike Gallacher.
"These fires aren't in rural areas, these are in fairly urbanised areas in northwestern Sydney, there are a lot of homes."