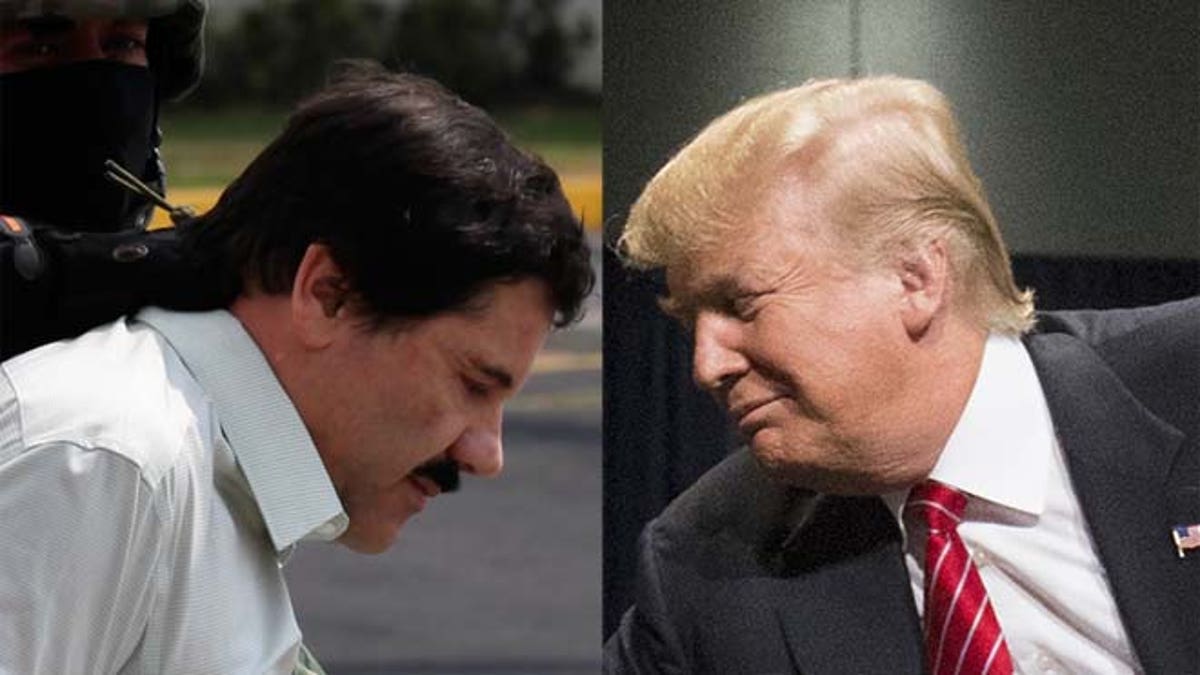 Republican presidential candidate Donald Trump contacted the FBI after receiving threatening tweets from a Twitter account claiming to belong to the Mexican drug lord and recent fugitive Joaquín "El Chapo" Guzmán.
A Trump campaign spokesperson told Fox News, "The FBI is fully aware of the situation and is actively investigating this threat against Mr. Trump, who added, 'I'm fighting for much more than myself. I'm fighting for the future of our country which is being overrun by criminals. You can't be intimidated. This is too important.'"
A spokesman for the Drug Enforcement Administration wouldn't comment about the possibility of Guzmán being linked to any social media account.
The account (@Elchap0guzman) tweeted in Spanish on Sunday evening, "Keep f---ing around, and I'll make you swallow all your words," along with more colorful language and ended with Trump's official Twitter handle (@realDonaldTrump).
Sigue chingando y voy hacer que te tragues todas tus putas palabras pinche guero cagaleche @realDonaldTrump
— Joaquín Guzmán Loera (@ElChap0Guzman) July 12, 2015
The tweet is an apparent reference to the comments Trump has made repeatedly since announcing his candidacy for the 2016 GOP nomination about Mexican immigrants bringing drugs and crime into the United States. On Sunday, Trump tweeted his own message about Guzmán's escape, crowing "I told you so!"
A Trump employee told the Gossip Cop website, which was the first to break the news, "This is no joke," noting that the staff of the real estate mogul and television personality had been in touch with the FBI. The threat is being taken "quite seriously," the site noted.
This is Chapo's (Shorty) second escape. The head of the bloody Sinaloa Cartel, Guzmán was first captured in Guatemala in 1993 and remained in a federal penitentiary in Mexico until 2001, when he escaped reportedly hidden in a laundry cart. He spent the next 13 years in hiding in the remote area of Sinaloa state where he grew up.
Before his capture in Feb. 2014, he was estimated to be have amassed a fortune of a billion dollars.
Writer and filmmaker Charlie Minn, who made the English-language documentary, "Es El Chapo?," told Fox News Latino, "I wouldn't take any of that seriously. Chapo didn't stay a fugitive for 13 years by doing stupid things."
Fox News Producer Christopher Snyder contributed to this article.
Like us on Facebook