Dennis Rodman heading to Singapore amid historic Trump-Kim summit
Throughout his storied NBA career, Hall-of-Famer Dennis Rodman has always served as the ultimate role player – whether it was on the Detroit Pistons, Chicago Bulls or whichever team he was grabbing rebounds and winning championships for.
Rodman appears to be trying to do something similar ahead of President Trump's historic summit with North Korean dictator Kim Jong Un, which is set for June 12 in Singapore. Rodman announced Friday that he will be heading to the country to offer "whatever support is needed."
"To all Americans and the rest of the world I'm honored to call @POTUS a friend. He's one of the best negotiators of all time and I'm looking forward to him adding to his historic success at the Singapore Summit," he wrote in a second tweet.
Rodman said his trip was being sponsored by his marketing team and a marijuana cryptocurrency firm.
"The Worm" is one of few people who has met with both Trump and Kim. The New York Post reported earlier this week that Rodman was going to be in Singapore a day before the summit kicked off. The White House made clear that Rodman wasn't invited to come with the team on the trip.
Rodman's history with Trump is fairly brief. He's twice appeared on "Celebrity Apprentice" and he gave a copy of Trump's "Art of the Deal" to the North Korean sports minister during a visit to Pyongyang last June. Rodman has hoped to be the one to facilitate a relationship between Trump and Kim.
"I don't ask Donald Trump for anything. I like Donald Trump," he told TMZ Sports in April. "He's a good friend, and I've always asked him to talk to me because the good people of North Korea and the government asked me to talk to Donald Trump about what they want and how we can solve things."
Over the last few years, Rodman and Kim have developed a close relationship.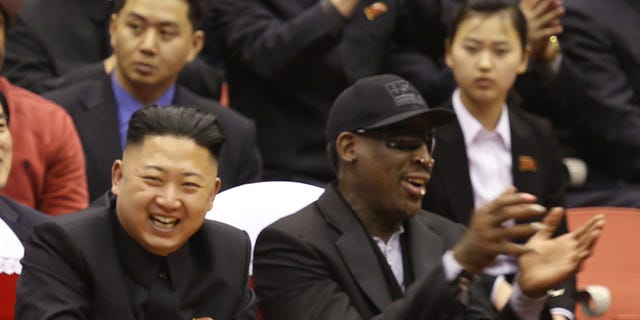 The 57-year-old visited the Hermit Kingdom in 2013 on a trip with the Harlem Globetrotters and returned to the country two more times that year. He put together a basketball game for Kim's birthday in January 2014, which The Washington Post reported it featured North Koreans and former NBA players.
Rodman's trip to North Korea in 2017 – also sponsored by the marijuana cryptocurrency company – coincided with Pyongyang's release of American Otto Warmbier, the American college student who was arrested in 2016 for allegedly trying to steal a propaganda banner. Warmbier was in a coma and had severe brain damage when he was released and died days after he returned to the U.S.
In December, Rodman defended Kim in the middle of global angst surrounding North Korea's missile testing. He told Stephen Colbert on "The Late Show" that Kim was misunderstood.
"It's funny, though, that I don't see how people can sit there and say that this person is a 'madman.' He probably is, but I didn't see that. But he probably is," Rodman said at the time.
Chris Volo, Rodman's agent, told The Washington Post that the former basketball star and Kim get along because of their love for sports and music.
"He loves Elvis Presley, Frank Sinatra," Volo said of Kim. "Dennis loves every type of music, and I think that's what really brought them together."
Whether Rodman meets with either Trump or Kim in Singapore remains unclear.