Deadly Delhi gang-rape inspires award-winning play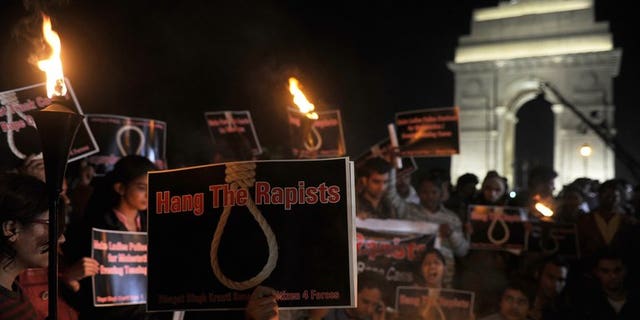 NEW DELHI (AFP) – Award-winning playwright Yael Farber, whose new work focuses on the fatal gang-rape of an Indian student last December, was inspired by the protests that erupted across the country after the attack.
"I remember feeling this extraordinary sense of envy when I looked at India... I mean -- who takes to the streets anywhere else in the world to speak for a young single woman?" the South African said in an interview with AFP.
Shocked by the attack, she posted about it on Facebook. Bollywood actress Poorna Jagannathan saw the post and invited her to India where the idea for a play about sexual violence began to take shape.
"Stories stay in public consciousness for a limited time, you have to grab that window," Farber said, explaining how she chose to write and stage the play just eight months after the assault.
The show premiered at the Edinburgh Festival Fringe and ends its run Monday.
"Nirbhaya", or "fearless", opened to rave reviews and won the Scotsman Fringe First award for outstanding new plays. Faber now has won the award three times.
The 42-year-old writer-director, raised in Johannesburg, told AFP from Edinburgh she was struck by the public reaction to the rape.
"I remember wondering what it would take for us South Africans to get on to the streets like this, what it would take to penetrate the numbness -- what it would take to care," she said.
The name of the play, enacted in Hindi and English, comes from the pseudonym of the 23-year-old who was gang-raped and sexually assaulted with an iron rod, and whose fight for life captured the world's attention.
"Everyone was rooting for her to live. She testified twice (in hospital) despite her grave injuries, she demanded accountability from the system," Farber said.
"She challenged ideas the world over that rape victims should be quiet and feel a sense of shame about what they have endured. That's why her spirit ignited people."
Farber, who has won a string of best director awards in South Africa and whose work has been honoured elsewhere, is no stranger to visceral drama. Her plays often include personal testimonies from her cast.
Her 2001 work "Amajuba" is based on the stories of five South African cast members who came of age during the final years of apartheid.
The December 16 attack, which saw the victim's male friend badly beaten by the six alleged assailants, is at the heart of "Nirbhaya", which features five other storylines.
The cast includes Jagannathan, as well as two other actresses and two more women who make their stage debuts.
All five relate personal experiences dealing with sexual abuse and assaults as children and adults.
Astrologer Sneha Jawale's monologue recounts her marriage to a man who doused her in kerosene and lit a match, leaving her with facial scars -- all in an effort to extort a higher dowry from her parents.
A single actor performs all male roles in the play, including the part of the Delhi rape victim's friend as well as the main accused, who hanged himself in jail in March.
The young woman is played by popular actor-singer-songwriter Japjit Kaur, who sings but doesn't speak on stage.
"I didn't want to put words into her mouth. We may never know who she really was so I presented her as an icon, an archetype," Farber said.
The victim's family know of the play, she added.
The attack fuelled a furious debate about the status and safety of women in India, an issue that exploded again when five men gang-raped a 23-year-old photographer Thursday in financial hub Mumbai.
"It would be a grave mistake to just dump the problem of sexual violence onto India and leave it at that," Farber said.
"Sexual violence isn't limited to a single country. Rape happens in South Africa, it happens in Italy, it's not just about India."
The playwright, who suffered sexual harassment in Mumbai while researching, said she was eager to bring the show to India.
"It's an Indian production in many ways. I am the only non-Indian person involved with it. I hope we can stage it in Delhi on the first anniversary of the attack."