Cuba wades into the WiFi era – one toe at a time – offering public service in one city park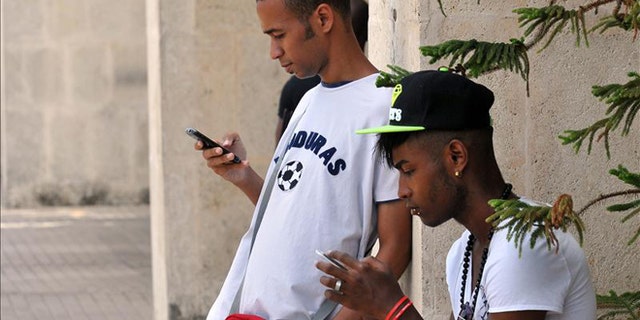 NEWYou can now listen to Fox News articles!
The Telecommunications Company of Cuba (ETECSA), which is owned by the island nation's Ministry of Information and Communications, announced that it is getting into the business of providing WiFi service to residents. Very, very slowly.
On Monday the country's official journalists union reported that, beginning at the end of January, people in Ferreiro Park in the country's second-largest city, Santiago de Cuba, with cell phones, tablets and laptops will have access to wireless service.
According to the Russian news outlet, RT, people will be able to download data at one megabyte per second—about one-fifth the speed for a standard home router in the United States and one-third the average download speed worldwide.
The service will cost $4.50 per hour. The average salary in Cuba is about $20 a month. There are about 154 Internet salons in Cuba, and each one charges a similar rate to access the WiFi.
According to the Associated Press, the WiFi in Ferreiro Park will only offer access to the island's restricted Cuba-only intranet.
The communist nation has one of the most tightly-controlled Internet access policies in the world. Currently only government agencies, universities and tourist hotels and restaurants have access to wireless networks, although many pirated wireless connections are believed to exist.
Some government-approved professionals, among them doctors and journalists, are allowed to have home Internet connections.
U.S. officials have said they hope the detente declared with Cuba last month will help make Internet more available on the island. Part of the deal involves allowing U.S. companies to sell Internet equipment to Cuba. The U.S. says Cuba has agreed to increase Internet access, although it has not been clear what agreement the Obama administration has been referring to.
The Associated Press and EFE contributed to this report.
Like us on Facebook