Croatia's prime minister dismisses Hungary's plan to build a fence as a threat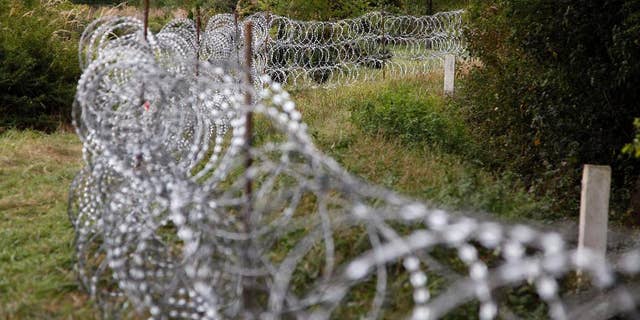 OPATOVAC, Croatia – Croatia's prime minister has dismissed Hungary's plan to build a fence between the two countries, arguing on Tuesday that nothing would be able to hold back the human wave seeking sanctuary in richer European countries.
Croatia's Zoran Milanovic did not hold back in his criticism of Hungary's Viktor Orban as he visited a transit camp in the eastern village of Opatovac, suggesting the leaders of the two neighboring countries were barely speaking.
Milanovic said there's "no river border between Croatia and Hungary and it's virtually impossible to hold this bitter river of people at bay."
"It's not right," he said. "So I will not talk to Orban. I wonder whoever speaks to him."
Tensions about how to deal with the migrants have prompted many leaders in southeastern Europe to bicker. The strongest language so far has been between Croatia and its old rival Serbia, but Milanovic's forthright remarks about Hungary underscore how much diplomatic work needs to be done among all of the countries in the region.
The possibility of a fence between Hungary and Croatia has sparked worry in the region ever since Hungary closed its border with Serbia on Sept. 15. That action diverted people to Croatia, swelling roads near its border with thousands fleeing conflict and poverty in Africa, Asia and the Middle East.
The economically struggling Balkan nation of 4.2 million has channeled people onto Hungary and Slovenia and another wall would complicate the situation, which is currently more obscured by poor weather than by uncertainty about how to move forward.
Asylum-seekers are slogging through rain and mud-caked roads in Croatia, as worsening fall weather plagues their journeys.
Tuesday's constant rain inflicted misery all around. Aid workers handed out dry clothes and described their horror at seeing infants soaked to the skin through layer after layer of wet garments.
Some 85,000 people have entered Croatia in the past two weeks and fears are growing about the travels of thousands more still on the move.
The International Organization for Migration says a record number of people have crossed the Mediterranean into Europe this year, straining the 28-nation European Union and prompting a rash of border closures. As of Tuesday, the group says 522,124 people have traveled by sea to reach the continent this year, compared to some 219,000 people in all of last year. Some 388,000 have entered via Greece — more than 175,000 of them from war-torn Syria, which is the largest single source of refugees. Another 6,710 Syrians entered through Italy.
IOM estimates that 2,892 people have died at sea — the vast majority on the route from North Africa to Italy.