Community, police, families search for gunman's motive in aftermath UK shootings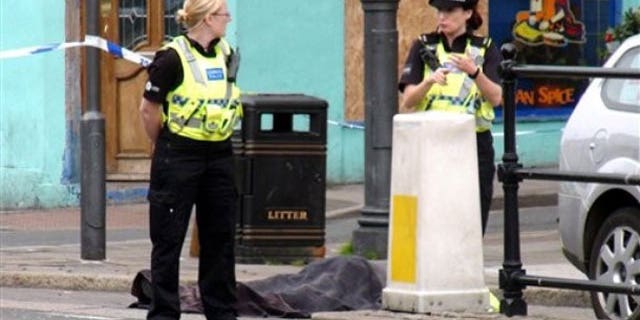 WHITEHAVEN, England – WHITEHAVEN, England (AP) — Derrick Bird killed his twin brother and the family lawyer, then traveled the roads he had worked as a taxi driver, shooting people — apparently aiming for their faces — killing 12 in all and wounding nearly a dozen before committing suicide.
Detectives Thursday were trying to answer the elusive question: What drove the 52-year-old cabbie to commit the worst mass shooting in Britain since 1996?
"There are 23 families out there who want to know why these events happened," Detective Chief Superintendent Iain Goulding said. "Our communities want to know why this has happened. My officers and I are absolutely determined to get to the bottom of why this happened. However, it may not be possible to establish all the answers, because we cannot speak to Derrick Bird."
Goulding said detectives would investigate rumors that Bird had financial problems or domestic troubles. He refused to speculate on what caused Bird to shoot people he knew, like his brother David Bird and lawyer Kevin Commons, as well as others he apparently did not.
In the traumatized town of Whitehaven, people described Bird as quiet and friendly. Known to some as "Birdy," he was a divorced dad who'd reportedly just become a grandfather for the first time. He held licenses for both of the weapons — a shotgun and a .22-caliber rifle with a telescopic sight — that were recovered beside his body.
Goulding said Bird had minor convictions for theft stretching back to 1990, but he had never been to prison — people who have been imprisoned are prevented from holding firearms licenses. Bird had no known mental health problems and was not on any medication.
Retired teacher Nan Wilson, 75, taught the brothers during their high school years, and said they were in the same class before leaving school at age 16.
"The twins were like chalk and cheese, as Derrick was more of an introvert," Wilson said. "There was no animosity between them. They just had a normal childhood."
A neighbor, Alan Fleming, said the family had lived in the area for two generations, and that Bird "never had so much as an argument" in his home village of Rowrah, about six miles (10 kilometers) east of Whitehaven.
"There was no sign of what was to come. He worked hard, and I would often get his taxi home on a night out," Fleming said. "Most people are shocked it was him. Someone must have proper ticked him off for this to happen."
Cumbria, which is about 350 miles (560 kilometers) northwest of London, sits on the Irish Sea and borders Scotland. It contains picturesque areas such as the Lake District — where Beatrix Potter wrote her famous children's books — and was immortalized in poetry by William Wordsworth.
It also has winding roads — familiar to a cabbie like Bird — along which armed officers spent hours pursuing him Wednesday, assisted by a helicopter from a nearby police force.
"Living in a place like this, we thought we were immune from this sort of thing," Ida Gate, a volunteer with the local branch of the Women's Institute, a charitable organization. said Thursday. "Everyone is just trying to get on with life."
At West Cumberland Hospital in Whitehaven, Charles Brett, the clinical director of emergency care, said five of the patients treated there had been shot in the face.
"There's a predominance of facial injuries in what we have seen. More than 50 percent of those that survived had some portion of facial injuries," Brett said, calling it "an unusual injury in any emergency department in the country."
Prime Minister David Cameron plans to visit the area Friday.
"We must do absolutely everything to complete this investigation, to make sure that everything is done to make sure that events like this cannot happen again in our country," Cameron said.
Rules on gun ownership were tightened after two massacres in the 1980s and 1990s. In 1987, gun enthusiast Michael Ryan killed 16 people in the English town of Hungerford. In 1996, Thomas Hamilton killed 16 children and a teacher at a primary school in Dunblane, Scotland.
In recent years, there have been fewer than 100 gun murders annually across Britain.
Cameron ruled out any quick review of Britain's stringent gun laws as a result of the killings.
"You can't legislate to stop a switch flicking in someone's head and this kind of dreadful event taking place," he told reporters at his Downing Street office.
While mass killings are extremely rare in Britain, the phenomenon is more common in the U.S. and has been the subject of extensive study. Jack Levin, a professor of sociology and criminology at Northeastern University in Boston, who has published books about multiple killings, said Bird's case was unusual even within that category because Bird seems to have chosen some of his victims randomly.
"Very rarely has this mass public execution been committed on this random basis," Levin said, adding that only 17 percent of mass killings include completely random victims. "Most mass killings are selective and methodical. The killer targets only those individuals he blames for his personal miseries."
In most mass killings, the attacker usually works his way through a peer group or colleagues, whoever committed the perceived slight, Levin said.
But Dr. Park Dietz, president of Threat Assessment Group Inc., a Newport Beach, Calif.-based violence prevention firm, said the killings appeared to be an example of a workplace shooting.
"His workplace is driving around," Dietz said. "In those instances there may be a few (victims) that are specifically targeted, but usually they end up shooting people at random."
Levin said mass killers are usually found to be severely mentally ill where external factors such as a worsening economy can feed into an individual's paranoia and create a violent fantasy. Frequently, such killers have also suffered a catastrophic loss, such as the end of a relationship or job.
About 50 percent of the assailants in mass killing cases themselves end up dead, either by their own hand or killed by police, Dietz said.
"If the anger is turned outwards, other people are blamed," Dietz said. "There is a tendency to take down others, too."
___
Jennifer Quinn reported from London. Associated Press writers Jill Lawless, Danica Kirka and David Stringer contributed from London and Thomas Watkins contributed from Los Angeles.