Clashes Between Syrian Forces, Protesters Killing at Least 30 Civilians, 26 Soldiers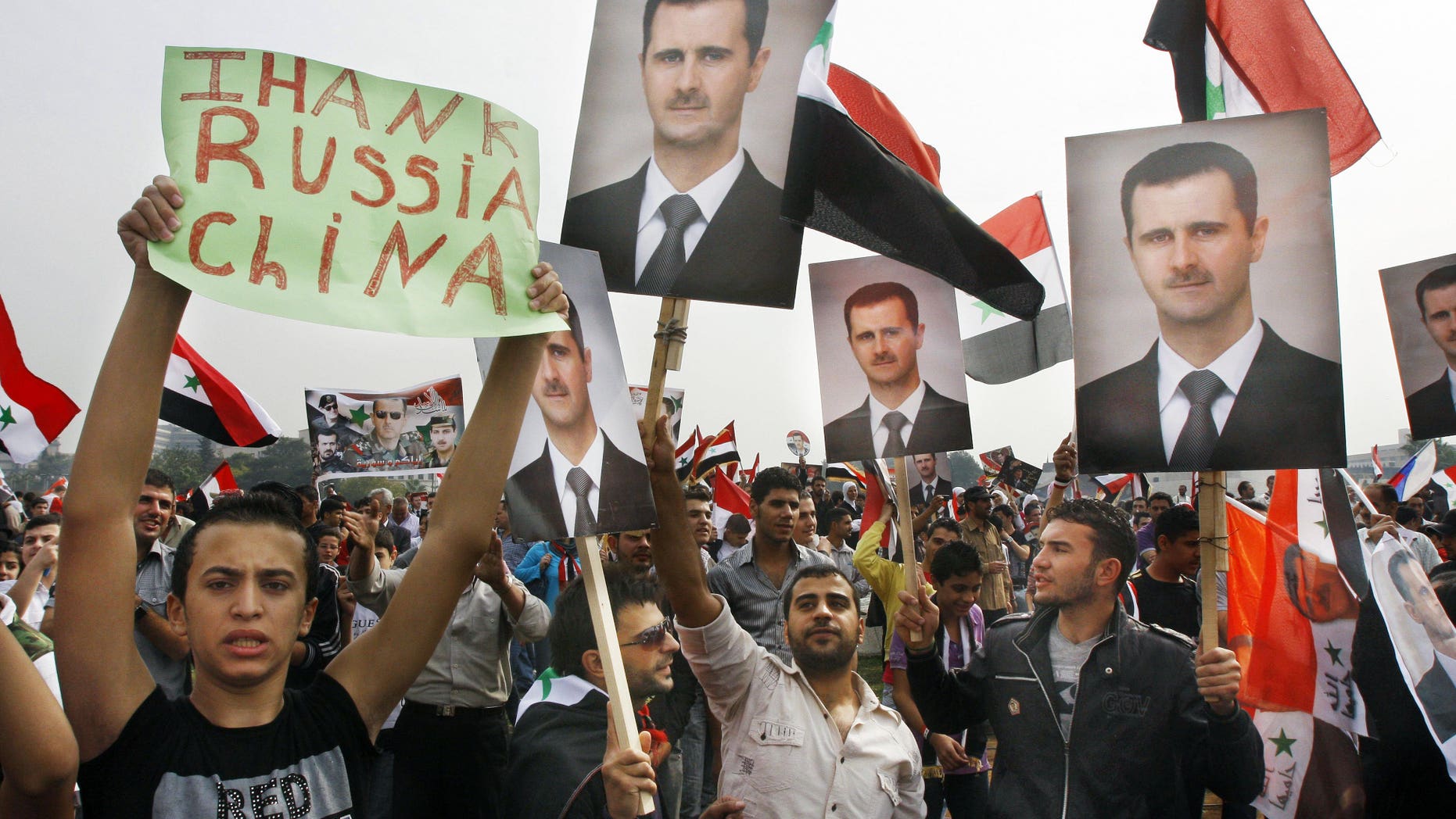 BEIRUT -- Syrian security forces fired on anti-government protests Friday, At least 30 civilians and 26 soldiers were killed in Syria ahead of Friday prayers, Reuters reports. The violence continued as an international human rights group accused the regime of crimes against humanity, activists said.
Mass protests after Friday afternoon prayers, followed by swift and deadly crackdowns by security forces, have become a weekly cycle throughout Syria's eight-month-old uprising. The U.N. estimates some 3,500 people have been killed in the crackdown since mid-March, when the uprising began.
But in recent weeks, the violence has spiked dramatically amid increasing signs that some protesters are taking up arms to protect themselves. There also have been reports of intense battles between soldiers and army defectors, setting the stage for even more bloodshed.
The unrest in Syria could balloon into a regional disaster. Damascus' web of allegiances extends to Lebanon's powerful Hezbollah movement and Iran's Shiite theocracy. And although Syria sees Israel as the enemy, the countries have held up a fragile truce for years.
On Friday, Human Rights Watch said Syrian forces have tortured and killed civilians in the rebellious province of Homs in an assault that indicates crimes against humanity. The group urged the Arab League to suspend Syria's membership during an emergency meeting Saturday.
The Arab League will meet at its headquarters in Cairo to discuss the regime's failure to abide by its agreement to stop the violence. Damascus agreed to the Arab League-brokered plan last week, but the violence only accelerated.
Homs, Syria's third-largest city in a province of the same name, has emerged as the epicenter of the uprising.
"Homs is a microcosm of the Syrian government's brutality," said Sarah Leah Whitson, Middle East director at Human Rights Watch. "The Arab League needs to tell President (Bashar) Assad that violating their agreement has consequences, and that it now supports Security Council action to end the carnage."
In a 63-page report released Friday, Human Rights Watch said security forces killed at least 587 civilians in Homs from mid-April to the end of August -- the highest number for any single province.
In the report, which focuses on that period, the rights group said former detainees reported torture including security forces' use of heated metal rods, electric shocks and stress positions. Witnesses also reported large-scale military operations during which security forces used heavy machine guns, including anti-aircraft guns mounted on armored vehicles.
The group also acknowledged that some protesters and army defectors took up arms to protect themselves -- a development that some fear plays directly into the regime's hands by giving it an excuse to use extreme violence against a mostly peaceful movement.
"Violence by protesters or defectors deserves further investigation," the report said. "However, these incidents by no means justify the disproportionate and systematic use of lethal force against demonstrators, which clearly exceeded any justifiable response to any threat presented by overwhelmingly unarmed crowds."
Although the crackdown has led to broad international isolation, Assad appears to have a firm grip on power. Sanctions are chipping away at the regime, but economy has not collapsed. There have been defections from the army, but most appear to be low-level conscripts.
The government has largely sealed off the country from foreign journalists and prevented independent reporting, making it difficult to confirm events on the ground. Part of the Arab League plan, accepted by Syria, was to allow reporters and observers into the country.
In the absence of firsthand reporting, key sources of information are amateur videos posted online and details gathered by witnesses and activist groups.
On Friday, the country's two main activist groups reported deaths in Homs and in several other areas. The British-based Syrian Observatory for Human Rights and the Local Coordinating Committees, an activist coalition, reported protests in the Damascus suburbs, Daraa in the south and Idlib near the Turkish border.
The Associated Press contributed to this report.