China condemns Vietnam's extension of runway on disputed South China Sea island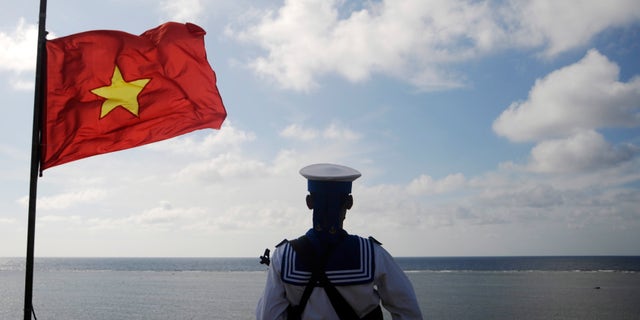 NEWYou can now listen to Fox News articles!
China lashed out at Vietnam Friday for extending a runway on a contested island in the South China Sea – even as Beijing takes heat for what neighboring countries call land grabs of its own.
RECENT DEVELOPMENTS SURROUNDING THE SOUTH CHINA SEA
Vietnam lengthened the runway on Spratly Island from less than 2,500 feet to more than 3,300 feet, according to the Asia Maritime Transparency Initiative, a project of the Center for Strategic and International Studies, a Washington, D.C., think tank.
The expansion would enable Vietnam to house maritime surveillance aircraft, transport planes and combat aircraft on the small disputed island, Reuters added.
CHINA-RUSSIA LAUNCH SOUTH CHINA SEA NAVAL WARGAMES
"We again strongly urge relevant countries to respect China's sovereign rights and interests, immediately stop their illegal occupation and illegal construction activities, and remove all people and installations," Chinese Foreign Ministry spokesman Geng Shuang said.
U.S. State Dept. spokeswoman Anna Richey-Allen weighed in: "We encourage all claimants to take steps to lower tensions and peacefully resolve differences."
PHILIPPINES PRESIDENT ANNOUNCES SEPARATION FROM THE US
Surveillance images have shown China expanding its own presence in the South China Sea region, even creating new islands on top of atolls and coral reefs. The country has built military-length runways on three of those artificial islands, Reuters reported.
This is not the first bolstering of Vietnamese military installations in the contested area. Reuters reported in August that the Vietnamese deployed mobile rocket launchers to several islands in the South China Sea, a move aimed at fortifying defenses as well as discouraging Chinese aggression. Vietnam denied the report, calling it "inaccurate."
The Associated Press contributed to this report.