China coal mine explosion kills 2, leaves 18 trapped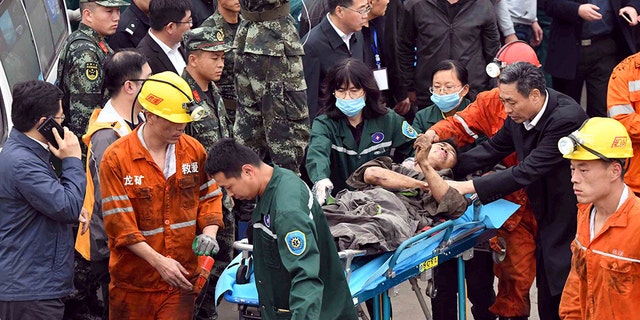 Two people died and 18 were trapped in a coal mine in eastern China on Sunday after a rock burst — an incident similar to an earthquake, induced by excavation — destroyed part of a mining tunnel, investigators said.
More than 300 people were working inside the mine at the time of the rock burst, and most were lifted to safety successfully.
Eighteen remained trapped underground late Sunday. Two people who were trapped have been rescued, according to state broadcaster China Central Television.
The spontaneous fracturing of rock took place around 11 p.m. Saturday in Shandong province.
Two people were killed by fractured rocks that fell in the tunnel, said the official Xinhua News Agency.
TURKEY VOWS CRACKDOWN OVER KHASHOGGI AS CRITICS CRY FOUL
Part of a water drainage tunnel was destroyed in the burst, as well, officials said.
The incident "has nothing to do with workers' operations," an official with the Shandong Coal Mine Safety Supervision Bureau told The Associated Press by phone.
MIGRANT CARAVAN POSES UNIQUE CHALLENGE TO U.S., MEXICO
The official, surnamed Tian, said nearly 140 rescuers were dispatched.
The cause of the accident was being investigated.
The Associated Press contributed to this report.