Central Africa leader dissolves rebel group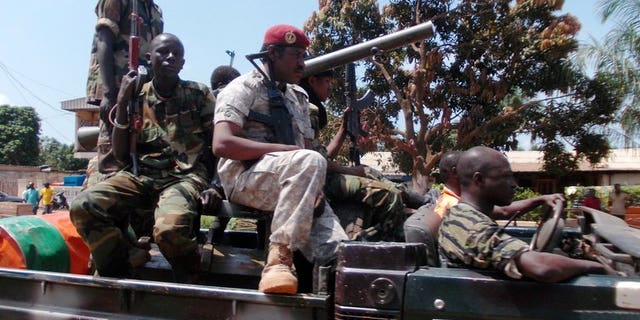 BANGUI (AFP) – Central Africa Republic's new President Michel Djotodia said Friday he is dissolving the Seleka rebel group that overthrew the country's former leader and brought him to power.
From today, the Seleka rebel coalition "no longer exists," said Djotodia, who was sworn in as president in August after seizing power in the violence-wracked country.
After ousting Francois Bozize from power, Djotodia's Seleka rebel alliance won de facto recognition from the international community and a shot at steering the nation through the transition period leading to fresh polls within 18 months.
The former French colony's sixth president is tasked with restoring security in the impoverished state and steering the nation through the transition.
Six months after Bozize's ouster, however, the picture remains bleak, with reports of widespread rape, child soldier recruitment and weapons proliferation prompting UN chief Ban Ki-moon to say the country needed the world's "urgent attention".
A UN report said Djotodia's Seleka fighters, many of whom have not been paid in months, were to blame for much of the chaos and that the group's hierarchy is doing little to stop them.
The International Federation for Human Rights said in July it had documented at least 400 murders by Seleka-affiliated groups since March. Bar a few arrests in Bangui, all those killings have gone unpunished.
The landlocked Central African Republic has 4.6 million inhabitants scattered over a territory larger than France, replete with untapped mineral wealth and bordering other chronically unstable countries such as DR Congo, Chad and South Sudan.