Cathay Pacific jet stranded for more than 16 hours at Chinese airport until new crew arrives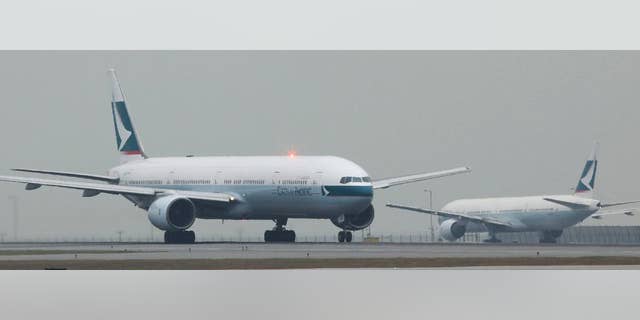 BEIJING – A Cathay Pacific flight from New York to Hong Kong was stranded for more than 16 hours in a Chinese city late last month because of bad weather and limits on the crew's work hours.
Flight 831 was diverted to the southern city of Zhuhai on the night of March 30 because of a hail storm, according to a Chinese customs district in Zhuhai.
The plane was left sitting on the tarmac for hours until Cathay Pacific sent it a new flight crew, because of the 12-working-hour limits on the first crew.
According to the customs, the Chinese officials worked continuously to accommodate the new 16 crew members, who took a high-speed ferry boat from Hong Kong and entered China through a Zhuhai port before arriving at the airport.
Chinese customs officials set up a temporary workplace at the airport — which does not have a permanent customs office — to process the crew members' paperwork before they flew the plane with 292 people aboard out of Zhuhai at 1:20 p.m. on March 31, the customs district said.
The flight usually takes 15-16 hours. The airline didn't immediately respond to a request for comment.
The U.S. broadcaster NBC quoted an unnamed passenger who complained that the 256 passengers could not leave the plane while in Zhuhai.
The Chinese government statement did not mention that the passengers were kept on the plane, but said local officials provided them with drinking water and food.