Car Bomb Kills Nine in Baghdad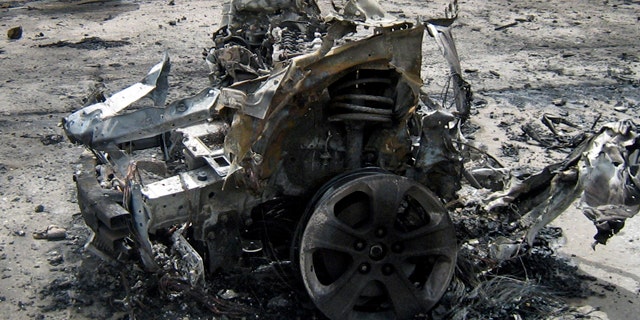 BAGHDAD -- Suicide bombers detonated two explosives-packed cars Monday outside Baghdad's heavily fortified Green Zone, killing at least nine people and wounding 23, officials said.
The blasts marked the start of a violent day in the Iraqi capital, where a another bombing and a jewelry heist left two more dead and 13 wounded.
The twin suicide car bombs rattled windows across Baghdad shortly after 8 a.m. The cars blew up just outside a security checkpoint on a heavily traveled road leading into the Green Zone from Baghdad's international airport.
Pieces of charred flesh were still scattered at the scene hours later as a tow truck hauled away a wrecked Iraqi Humvee and other bombed-out cars.
Baghdad military spokesman Maj. Gen. Qassim al-Moussawi said the bombers appeared to be targeting the motorcades of two senior government officials -- one from the military, the other from the Cabinet -- who were headed to work. He declined to elaborate.
The explosion set ablaze some of the cars that were waiting to be cleared into the Green Zone, which houses Iraq's parliament and ministry offices, as well as several foreign embassies.
Two police officers and an official at al-Yarmouk hospital said nine people, including five Iraqi soldiers, were killed and 23 people were wounded in the attack. Al-Moussawi put the number of dead at six, with 14 wounded, but added that "this is not a final death toll."
Conflicting casualty numbers are common in the immediate aftermath of attacks.
A few miles away, two more roadside bombs exploded a few minutes later in what appeared to be an unrelated strike. Police said nine passers-by were wounded in the attack outside a restaurant in Jadriyah, a mixed Sunni-Shiite neighborhood.
Violence has ebbed across Iraq since the worst days of sectarian fighting just a few years ago that brought the country to the brink of civil war. But deadly bombings and shootings still occur on a near daily basis as insurgents seek to highlight Iraq's continued instability as U.S. troops prepare to withdraw by the end of the year.
By midmorning, attackers hit another frequent target in the capital: jewelry stores.
Officials said two carloads of robbers stormed two jewelry shops in Baghdad's eastern al-Amin area, sparking a shootout with police. A shop owner and a customer were killed, and police also shot dead one of the robbers before the attackers fled with a bag of gold and gems.
Four passers-by also were wounded, according to police and an official at al-Kindi hospital.
Authorities believe insurgent groups increasingly are turning to robberies and other crimes to fund terrorist activity.
Government workers also are commonly attacked, and an Iraqi Central Bank adviser escaped an assassination attempt Monday morning when his convoy hit a roadside bomb on an eastern Baghdad highway. The adviser was not hurt, but two of his guards were wounded, police and hospital officials said.