Canadian police: Arrest made after car with weapons, gasoline found near G-20 summit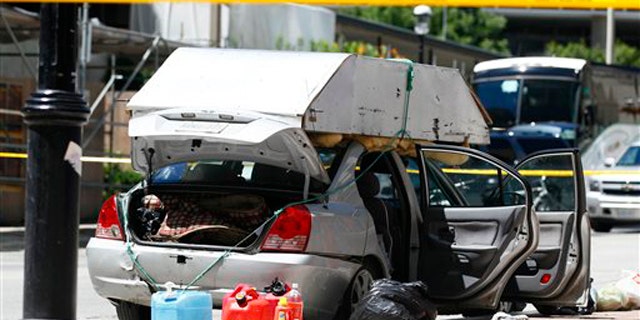 TORONTO – TORONTO (AP) — Police on heightened alert before a summit of world leaders stopped a car with a large container strapped to its roof and arrested the driver after finding gasoline canisters, a chainsaw, a cross bow, arrows and sledge hammers inside.
The vehicle was flagged because it looked suspicious and unsafe, police said, but there was no evidence that the car was related to the arrival of dignitaries this weekend in Canada's largest city.
"There's quite a various amount of items that, used by the wrong person at the wrong time, was enough that we made the arrest," said police Const. Hugh Smith, after the arrest.
The man arrested was Gary McCullough, 53, of Ontario. He was charged with weapons dangerous, and is expected to be in court Friday.
Leaders of the world's major industrial countries, representing 85 percent of the global economy, will meet in Canada starting Friday for economic summits of the Group of Eight and G-20 nations.
The G-8 summit of large industrial nations begins Friday in Huntsville, Ontario, three hours north of Toronto. It is followed on Saturday and Sunday by the G-20 summit, which brings leaders of an influential grouping of both rich and developing nations to central Toronto.
In preparation, Toronto's downtown resembles a fortress with thousands of police. A big steel and concrete fence surrounds several blocks around the summit site. About 19,000 security personnel are on duty for the summits.
Thursday's arrest was the third ahead of the meeting this week. In another incident, a man and woman were charged with possession of explosives, but authorities said there is no risk to public safety.
Police spokeswoman Jillian Van Acker said Thursday that Kristen Peterson, 37, was charged with possession of an explosive device and possession of a weapon. Peterson's partner, computer security expert Byron Sonne, was charged Wednesday with several offenses, including possession of explosives, dangerous weapons and intimidating a justice system participant.
Jesse Hirsh, an internet activist and contributor to the Canadian Broadcasting Corp., said Sonne told a meeting of activists and professors in May that he planned to monitor police chatter about the G-20 summit and post it on Twitter. He also said he would buy items online to attract police attention.
Officers armed with a search warrant went to the couple's home in a wealthy neighborhood in Toronto's north end on Tuesday. They charged Sonne and Peterson after searching two cottage homes in rural Ontario.
Police have declined to release other details, but said the investigation is part of their effort to ensure the safety of the meetings.