Cambodian opposition leader loses parliamentary post in unexpected vote by ruling party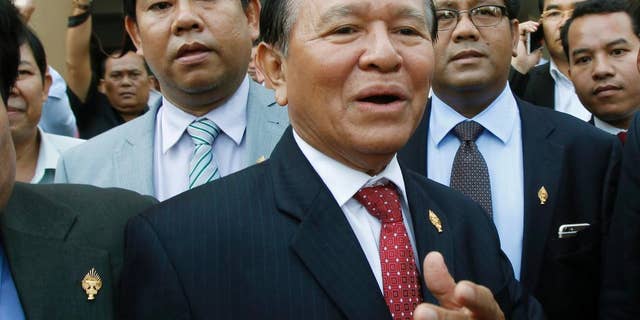 PHNOM PENH, Cambodia – The deputy leader of Cambodia's opposition party was stripped of his post of vice president of the National Assembly in a vote Friday attended only by the ruling party and condemned by his supporters.
The action could signal the end of a political truce struck last year between the government of authoritarian Prime Minister Hun Sen and the opposition, which had agreed to return to the assembly after staging a boycott over alleged fraud during 2013 elections.
The removal of Kem Sokha, one of the harshest critics of Hun Sen, was passed by a 68-0 vote in just 30 minutes. It had not been on the assembly's agenda and all 55 opposition members walked out in protest.
The vote was preceded by violence on Monday when two opposition lawmakers were badly beaten by a mob calling for Kem Sokha's resignation.
The two were undergoing treatment in Bangkok, and Kem Sokha went to visit them Friday when he was removed.
Hun Sen has been in power for almost three decades. While Cambodia is formally democratic, the government is notorious for intimidating opponents. Hun Sen has warned of civil war if the opposition wins the next election, suggesting that his followers would not accept such a result.
Relations between the government and the opposition deteriorated earlier this year after the opposition tried to exploit a volatile issue by accusing neighboring Vietnam, with which Hun Sen's government maintains good relations, of land encroachment.
The anti-Vietnamese position proved politically popular, and the government reacted by stepping up intimidation of the opposition party in the courts, which are seen as being under its influence.
A statement issued Friday by the opposition Cambodia National Rescue Party said the dismissal of Kem Sokha was a violation of the constitution because there is no provision for the removal of the president or vice president of the assembly, though it specifies they can lose their posts through death or resignation.
Government lawmakers insisted the vote was legal.
The opposition party also said the move violated a 2014 agreement between the two parties to enact political reforms. Under the deal, Kem Sokha received the post of first vice president.
The ruling party head of the National Assembly, Heng Samrin, sent a letter after Friday's vote to opposition leader Sam Rainsy, asking him to submit a replacement for Kem Sokha.
In a message posted on his Facebook page, Kem Sokha said he and party leader Sam Rainsy agreed that they would not submit a candidate because they considered Kem Sokha's dismissal illegal.