Building of tunnel used by 'Chapo' Guzmán started months before arrest, experts say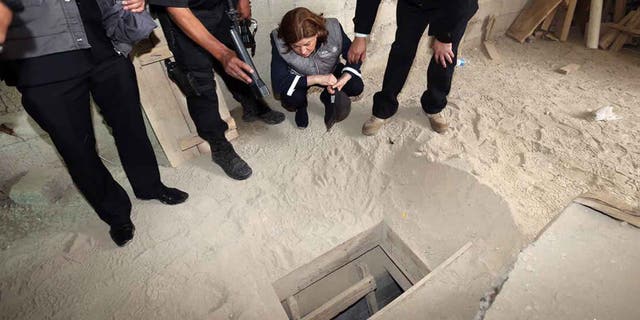 The kind of tunnel that led Mexico's most powerful drug lord to freedom required 18 months to two years to complete, said a former top official with the U.S. Homeland Security.
The tunnel at Altiplano was longer than any passage ever found on the U.S.-Mexico border, and to pull off such a feat rescuers likely had intelligence on the prison even before Joaquín "Chapo" Guzmán was arrested, said Jim Dinkins, former head of Immigration and Customs Enforcement's Homeland Security Investigations.
The mile-long tunnel was equipped with lights, air venting, and a customized motorcycle rigged up on a rail line.
"It's not just like someone took a couple tools, shovels and pickaxes. This is a very sophisticated operation," said Alonzo Pena, another former senior official at U.S. Immigration and Customs Enforcement. "How could they be there and not hear that construction was going on underneath? It's just impossible."
As for the removal of dirt and debris, an Associated Press reporter who viewed the partially built house where the tunnel ended observed that the dirt level in the yard surrounding the house was 2 feet to 3 feet higher than the rest of the terrain, indicating workers may have just spread dirt around the property rather than haul it out.
Also, the area around the prison is a sprawling construction site, with giant water pipes, trenches and excavation crisscrossing the landscape, and that would have made it easy for the tunnel work to go unnoticed.
As authorities hunted Monday for any sign of Mexico's most powerful drug lord, it was clear that Guzmán's escape must have involved inside help on a grand scale.
Designers and workers would have needed access to sensitive information such as prison floor plans and alarm and camera systems. And just the noise alone as they bored the final 30-foot vertical shaft directly under the prison to reach Guzmán's cell would have generated some attention.
Interior Secretary Miguel Angel Osorio Chong said as much Monday night. He announced that three prison officials had been fired, including Valentin Cardenas, director of the facility known as Altiplano, a maximum security prison 55 miles (90 kilometers) west of Mexico City.
"They had something or a lot to do with what happened, and that's why we made that decision," Osorio Chong said.
Still, he did not say who exactly is suspected of aiding the escape. Nor did he talk about rooting out the kind of corruption that led to the escape.
The prison has the same high-security standards as those in the U.S. and Canada, he said, and Guzmán was given extra surveillance, including a tracking bracelet, although it worked only inside the prison.
Osorio Chong said the tunnel had been dug about 62 feet below the surface and called it a "high-tech" breach of the prison's extensive security measures, including 750 cameras and 26 security filters.
The Mexican government announced that it is offering a 60 million-peso ($3.8 million) reward for Guzmán's recapture. An Interpol alert was sent to 10 countries and at least 49 people have been questioned by the government's organized crime unit, including more than 30 prison employees.