British defense secretary resigns following sexual misconduct allegations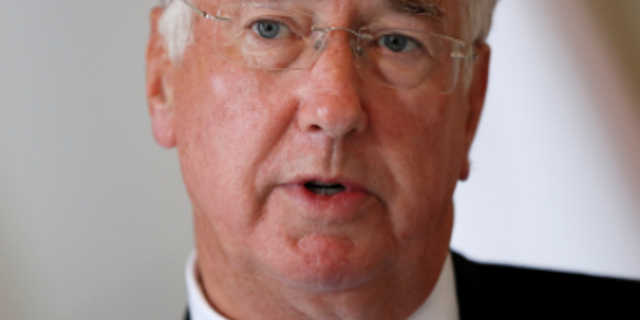 British Defense Secretary Michael Fallon has resigned from office following accusations he inappropriately touched a journalist's knee.
Fallon, in a letter sent to Prime Minister Theresa May on Wednesday, said he may have "fallen short of the high standards" expected of the military.
The defense secretary's resignation comes shortly after he apologized for his behavior at a conference in 2002, Sky News reported. Fallon allegedly repeatedly placed his hand on journalist Julia Hartley-Brewer's knee at the event.
REPORTS: UK POLICE WIDEN INVESTIGATION INTO HARVEY WEINSTEIN
Even though Hartley-Brewer seemingly joked about the incident on Twitter by saying, "Get a grip, people," reports suggest other allegations about Fallon's behavior could come out soon.
May, after receiving Fallon's resignation, said she appreciated "the characteristically serious manner in which you have considered your position."
The accusation is part of a growing list of inappropriate behavior by both British politicians and parliamentary staff and by professionals in various U.S. industries.
Fallon's resignation comes the month after Hollywood mega-producer Harvey Weinstein was accused of sexual assault against at least 80 women.
COUNTRY MUSIC'S TOP PUBLICIST ACCUSED OF SEXUAL ABUSE OF SINGER DENIES ALLEGATIONS
And filming for Netflix's "House of Cards" starring Kevin Spacey was suspended this week after Broadway veteran Anthony Rapp accused the Oscar-winner of making a "sexual advance" toward him when he was 14 and Spacey was 26.
Earlier Wednesday, NPR's Mike Oreskes resigned as chief editor after he was accused of sexual harassment dating back to the 1990s.
Fallon had served as UK defense secretary since 2014.