Britain's Labour leader makes pitch to working families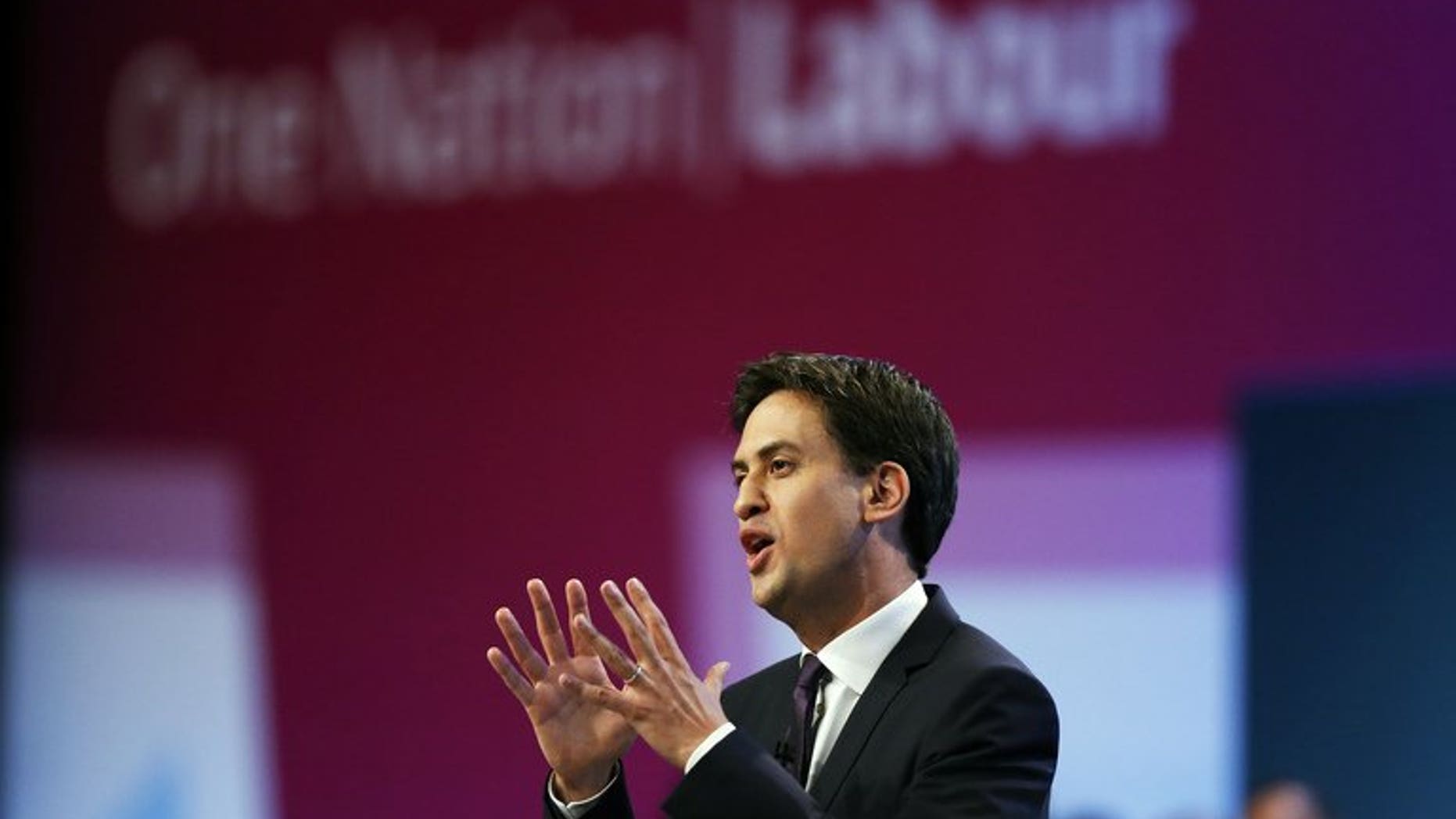 BRIGHTON, United Kingdom (AFP) – Britain's opposition Labour leader Ed Miliband positioned himself as the champion of hard-pressed working families on Tuesday, using a speech to his party's annual conference to promise an energy freeze and higher wages.
In a rousing address in Brighton on the southern English coast, Miliband accused Prime Minister David Cameron's Conservative-led government of being out of touch with the lives of ordinary people.
As the economy shows signs of recovery, prompting ministers to proclaim their austerity drive a success, Labour has focused on what it has called a crisis of living standards as it gears up for the general election in 2015.
At the heart of Tuesday's speech was a pledge to freeze electricity and gas prices for 20 months if Labour takes power, a likely vote winner even if it puts the party on a collision course with energy companies.
Miliband also promised to raise the minimum wage, build 200,000 homes a year by threatening developers who "sit on the land" with losing it, and reverse the coalition government's reforms of the National Health Service (NHS).
"For generations in Britain, when the economy grew, the majority got better off," Miliband said.
"And then somewhere along the way that vital link between the growing wealth of the country and your family finances was broken."
"They used to say a rising tide lifted all boats. Now the rising tide just seems to lift the yachts," he joked, a reference to the wealth of Cameron and many of his ministers.
Trade union leaders praised the speech, which glossed over the row over Miliband's proposed reforms to cut the strong financial links between unions and the Labour party.
"He showed he understands what people are going through. He offered firm commitments to help hard-pressed families," said Dave Prentis, leader of Britain's biggest union, Unison.
"He gave a vision for the many, not the few."
But Miliband's policies immediately ran into trouble, as the group representing energy firms warned a price freeze could lead to black-outs and higher bills over the long-term.
"Freezing the bill may be superficially attractive, but it will also freeze the money to build and renew power stations," said Angela Knight, chief executive of Energy UK.
She said it would "make the prospect of energy shortages a reality, pushing up the prices for everyone".
The CBI business lobby group also condemned Miliband's proposal to cancel a proposed percentage point cut in corporation tax in order to reduce taxes for small firms.
"Businesses will view the proposals on tax and energy as a setback for Labour's pro-enterprise credentials," said CBI director-general John Cridland.