Brazil's Rousseff waits on impeachment vote after grueling 14-hour questioning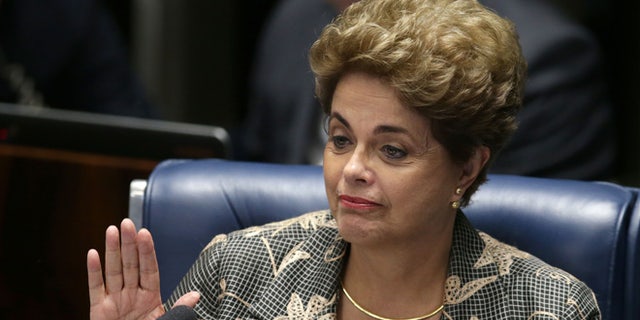 BRASILIA, Brazil (AP) – On what could prove to be her last day as Brazil's president, Dilma Rousseff mounted a forceful defense of her time leading Latin America's most populous nation, warning senators that ousting her would hurt a young democracy while defiantly promising to go down fighting in what many see as a losing battle.
Rousseff, who has been suspended since May, delivered a 30-minute address Monday at her impeachment trial in the Senate, then sat for questioning by senators that ran for more than 14 hours, until just before midnight. The Senate was scheduled to begin proceedings for a final vote on whether to remove her permanently Tuesday.
Some exchanges were heated, but most were civil and traversed themes that the country has been wrestling with since an impeachment measure was introduced in the lower House of Deputies late last year, polarizing the nation.
Opposition senators accused Rousseff of breaking fiscal responsibility laws to hide holes in the federal budget, saying that exacerbated a recession that has led to 10 percent inflation and daily announcements of layoffs.
She called that nonsense, contending she broke no laws and noting previous presidents used similar accounting measures. She said she was forced to make tough choices on the budget in the face of declining revenues and a refusal by opponents in Congress to work with her.
If anything, she said, the impeachment process had hurt the economy, placing the blame on the opposition, which has argued that she has to be removed for the financial climate to improve.
"I know I will be judged, but my conscience is clear. I did not commit a crime," Rousseff told senators, who listened intently in contrast to the chamber's usual raucousness.
Watching the proceedings, Rousseff's mentor and predecessor as president, Luiz Inacio Lula da Silva, who is himself under investigation, said: "She said what she had to say."
Yet many top leaders, including Silva, have acknowledged that Rousseff's chances of surviving the Senate's final vote are slim.
For Rousseff to be removed, at least 54 of the 81 senators need to vote in favor. Counts by local media say 52 senators have said they plan on voting for removal, while 18 are opposed and 11 have not said one way or another. In May, the same body voted 55-22 to impeach and suspend her.
"I need all of you, regardless of political parties," Rousseff said in her closing remarks to senators, urging them to keep her on the job. Their response was tepid.
Earlier, Rousseff had sharp words for her vice president, Michel Temer, who took over when she was impeached and suspended and will finish her term if the Senate permanently removes her.
She called him a "usurper," and argued Brazilians would never have elected a man who named a Cabinet of all white men in a country that is more than 50 percent non-white. The Cabinet that Temer put in place in May has been roundly criticized for its lack of diversity, and three of his ministers were forced to step down within a month of taking office because of corruption allegations.
"I'm not sure when, but at some point he began to change," said Rousseff, who has repeatedly accused Temer of being the ringleader pushing for her ouster.
Temer, who stayed out of sight Monday, issued a statement calling "lies" many of the claims made about him over the last several months. The statement said Temer would not raise the retirement age to 70 or 75, eliminate sick pay or roll back labor laws.
"These and other lies were attributed in an irresponsible and frivolous way to the interim government," it said.
Temer's finance minister, Henrique Meirelles, has said his priority is to curb government spending and pass a pension reform.
But Monday was about Rousseff, who often appeared to be holding court, dominating the conversation as she contended that Brazil's democracy was at stake.
Brazil's first female president is a former guerrilla fighter who was jailed and tortured during the country's dictatorship, and she drew a connection between her past and the current situation.
"I can't help but taste the bitterness of injustice," Rousseff said of the impeachment effort.
She reminded those in attendance that she was re-elected in 2014, garnering more than 54 million votes, which she says should be not silenced.
Rousseff asserted that impeachment was the price she paid for refusing to quash a wide-ranging police investigation into the state oil company Petrobras, saying that corrupt lawmakers conspired to oust her to derail the investigation into billions in kickbacks at the oil giant.
The investigation has led to the jailing of top businessmen and politicians, including in her Workers' Party. But they have plenty of company: Watchdog groups estimate 60 percent of the 594 lawmakers in both chambers are being investigated for wrongdoing, many for corruption related to the Petrobras probe.
Rousseff said it was "an irony of history" that she would be judged for crimes she did not commit, by people who were accused of serious crimes.
"I ask that you be just with an honest president," she said during her initial address, her voice cracking with emotion.