Brazil Senate votes to impeach President Dilma Rousseff by wide margin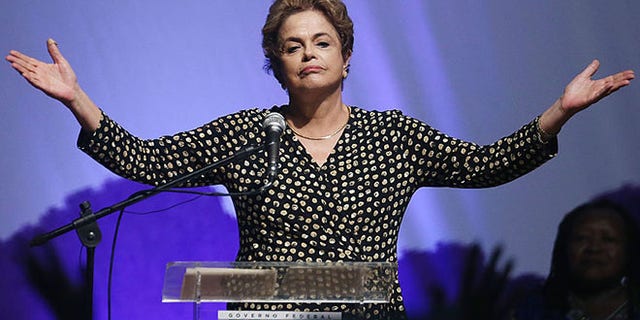 The Brazilian Senate on Wednesday voted 61-20 to impeach President Dilma Rousseff for breaking fiscal laws, bringing to an end the historic tenure of the South American nation's first female president who brought a greater spirit of empowerment to women in the country.
Instead, Rousseff's vice president, Michel Temer, who has been pilloried for a Cabinet that is almost entirely composed of white men, will finish out her term.
The impeachment comes after a yearlong high-pitched political battle that paralyzed Latin America's most powerful nation, helped bring down its economy and exposed deep rifts among its people on everything from race relations to social spending.
Passionate closing arguments by Rousseff's accusers and speeches by her allies did little to tip the balance in her favor on the eve of the impeachment decision. Suspended by the Senate in May, Rousseff faces permanent removal for breaking fiscal responsibility laws in her managing of the federal budget.
Most of the 81 senators making statements on Tuesday during her trial criticized Rousseff, blaming her for Brazil falling into its deepest recession in decades and saying she ignored signs of a slowdown.
"The most perverse consequence of the actions of the president is that 12 million are unemployed, 5 million since she was re-elected," said Sen. Aecio Neves, who narrowly lost the presidential election to Rousseff in 2014.
Earlier on Wednesday, senators allied with Rousseff filed a petition to break up the vote into two questions.
Originally, the vote to remove Rousseff from the presidency would also have banned her from holding public office for eight years. But senators will decide separately on whether she can remain in public office in a different capacity.
Sen. Humberto Costa, from Rousseff's Workers' Party, argued that the two issues — her removal from office and a ban from public office — ought to be considered separately.
"The punishment is disproportionate in relation to the crime she is accused of," he said during his arguments.
Chief Justice Ricardo Lewandowski, who presided over the impeachment trial in the Senate, granted the request over the objections of several senators.
Rousseff, a former guerrilla fighter who was tortured and imprisoned during the country's dictatorship, has maintained that she broke no laws and notes that previous presidents used similar accounting techniques.
On Monday, she argued before senators that she was forced to make tough choices on the budget in the face of declining revenues and a refusal by opponents in Congress to work with her.
"I know I will be judged, but my conscience is clear. I did not commit a crime," Rousseff told senators in a 30-minute address.
Rousseff had sharp words for her successor, Temer, who took over as interim president when she was temporarily suspended and will finish her term through 2018.
She called him a "usurper" who in May named a Cabinet of all white men in a country that is more than 50 percent non-white. Temer's Cabinet has been roundly criticized for its lack of diversity, and three ministers were forced to step down within a month of taking office because of corruption allegations.
Rousseff asserted that impeachment was the price she paid for refusing to quash a wide-ranging police investigation into the state oil company Petrobras, saying that corrupt lawmakers conspired to oust her in an attempt to derail the prosecution of billions in kickbacks at the oil giant.
Rousseff said it was "an irony of history" she would be judged for crimes she did not commit, by people accused of serious crimes.
Observers say that the Temer government should move toward economic and political reforms that are at the heart of the discontent with Rousseff.
"After months of tension, we can expect the Michel Temer administration to move Brazil toward passing a few much-needed reforms," Peter Schechter, director of the Adrienne Arsht Latin America Center, said in a statement. "We'll see strong rhetoric from both sides in the coming weeks, but there is no doubt that after years of stagnation, it is time for Brazil to move on."
The Associated Press contributed to this report.
Like us on Facebook
Follow us on Twitter & Instagram