Brazil school shooting leaves several dead, including 6 kids, reports say
Two hooded young men entered a school in Brazil with guns blazing Wednesday, killing at least six students and two school employees, according to reports.
The shooters wore masks when they entered the school, police said. The gunmen began firing away before ultimately killing themselves. Witnesses told Brazilian media they saw someone shooting a gun outside the school before going inside.
Other children at the Raul Brasil school, in Suzano, a suburb of Sao Paulo, were shot and were rushed to hospitals with injuries, Reuters reported. At least 10 people were injured, two of them in serious condition, according to reports.
Juliano Simoes de Santana, who lived near the school, told Folha de S.Paulo he heard shots in the morning.
"I live next door, I heard a commotion and I went there," he said, "I came in and I saw several children running out bloodied, in desperation, and a teacher, an employee -- everyone was running."
Colonel Marcelo Salles, commander of the military police, said the shooters fired at the owner of a jet near the school before they unleashed the attack on the students. The jet owner was being treated at a hospital, the commander said.
Salles said the shooters used a .38 caliber revolver, a bow and arrows and explosives.
CHILDREN FEARED DEAD, TRAPPED INSIDE IN NIGERIA AFTER 3-STORY SCHOOL COLLAPSES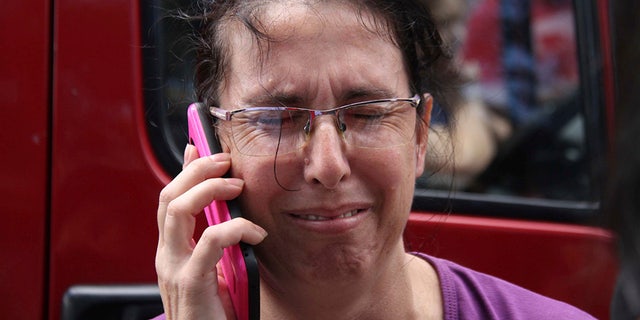 There were conflicting reports about when the shooting occurred -- some said it was at about 9:30 a.m. local time, others said it was at lunchtime.
The two men first shot an education coordinator, and then fired at students who were in the schoolyard, CNN reported. Some media outlets said witnesses described the men as teenagers, while others said the Joao Doria, the governor of Sao Paulo, said they were believed to be 20 and 25 years old. The Associated Press reported that the school employees who died were teachers.
Governor Doria tweeted early Wednesday he was canceling his scheduled activities and was heading to the school.
After he went there, he said: "It is a very sad scene, the saddest thing I have seen in my entire life."
Latin America's largest nation has the largest number of annual homicides in the world, but school shootings are rare.
​​​​​​CLICK HERE FOR THE FOX NEWS APP
The last one took place in 2011, when the former student of a school returned and shot 12 children, killing them.
Gun laws are strict in Brazil. People still obtain them rather easily, however, through the black market. Brazil's new President Jair Bolsonaro recently announced that gun ownership controls would be loosened.
The Associated Press contributed to this report.