Brazil president makes last-ditch effort to save her job, tells senate she's unjustly accused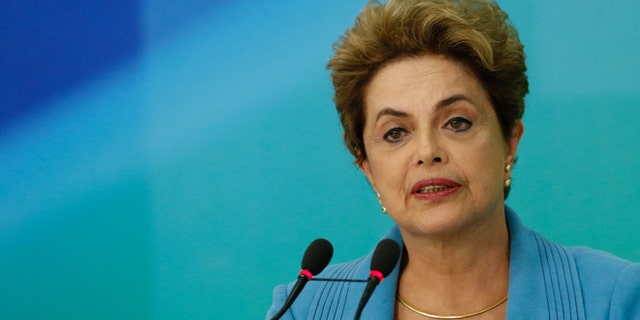 NEWYou can now listen to Fox News articles!
ASSOCIATED PRESS – Fighting to save her job, suspended President Dilma Rousseff addressed the Senate on Monday in a showdown pitting accusations that the she hurt Brazil's economy with budget manipulations against her argument that she did nothing wrong and is being targeted by corrupt lawmakers.
Rousseff told senators that she is being unjustly accused of breaking fiscal rules in her management of the federal budget.
She said: "I know I will be judged, but my conscience is clear. I did not commit a crime."
The suspended Brazilian leader reminded senators that she was re-elected in 2014 by 54 million voters. She said that at every moment she has followed the constitution and done what was best for the country.
In her words, "I can't help but taste the bitterness of injustice."
In May, the Senate voted 55-22 to suspend her from office for up to 180 days while a trial was prepared. Michel Temer, who was her vice president and turned into her nemesis, took over as president. If Rousseff is permanently removed, Temer will serve the rest of her term, which goes through 2018.
In the middle of her second term, the left-leaning leader is accused of breaking fiscal rules to hide problems in the federal budget. She denies wrongdoing and argues that her enemies are carrying out a "coup d'état."
Opponents claim her maneuvers were an attempt to continue high spending and mask deficits, which ultimately exacerbated a severe recession in Latin America's largest economy.
According to the official close to Rousseff, she planned remarks that would be "firm, but not arrogant." The official agreed to discuss the speech only if not quoted by name because he wasn't authorized to divulge its details.
The trial is being presided over by Supreme Court Chief Justice Ricardo Lewandowski.
Outside Congress, a huge wall was put up to separate Rousseff supporters and pro-impeachment activists. Police did not allow anyone to camp there Sunday, so the grounds were completely empty.
On Monday morning, several hundred supporters of Rousseff demonstrated outside Congress ahead of her appearance for the Senate's impeachment trial.
Like us on Facebook
Follow us on Twitter & Instagram