Bell enjoys putting Australia to sword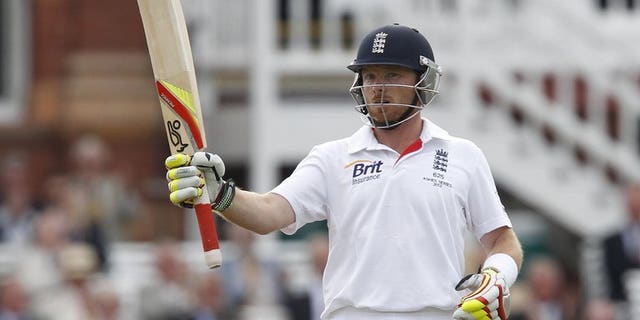 LONDON (AFP) – Ian Bell admits he is relishing the chance to avenge his Ashes misery against Australia.
Bell averaged just 32 in 18 Ashes Tests before the current series and became something of a whipping boy for the Australians, with Shane Warne taking several opportunities to taunt him for his perceived lack of grit.
But the Warwickshire star has finally matured into England's middle-order lynchpin and Australia have been unable to extend their dominance against him.
Bell has scored a century in the last three Ashes Tests, including vital innings in the victories at Trent Bridge and Lord's.
"From my first couple of Ashes series I knew I had to improve on that," Bell said.
"The Australian team I started against was pretty good, so it is nice to be putting my hand up now as a senior player when we've needed it.
"I feel pretty confident right now and it is good to be putting it together in an Ashes series which is what I've wanted to do.
"I don't really feel too bad about the previous series but it is nice to be able to do things when the team need it most and scoring hundreds is what you want to do.
"To have three now against Australia is exactly where I want to be."
With England already 2-0 up in the series, they can retain the Ashes with a win or a draw in the third Test at Old Trafford next week.
And Bell, who has always found Old Trafford to be a happy hunting ground, can't wait to punish the Australian bowlers again.
He has scored two hundreds and a 97 in five Manchester Tests, at an average of 87.
But if there is anything Bell takes from the epic drawn Test against Australia in 2005 -- the last Ashes match played at Old Trafford -- it is that the tourists will be determined not to surrender without a fight.
"I know that the Test matches I've been involved in there, we've got a good record so it is a good place for England to go to now," Bell said.
"The 2005 Test was a game we were looking at targeting another win, but Australia battled right to the end.
"They were so excited about getting the draw, so you felt a little shift in the series right there because they were happy to get out of it.
"It was an intense game as all Ashes games are and I would expect another tough game coming up.
"Coming into this series it has been about contributing to the team and at Lord's we had to work hard in different periods of the game and we got our rewards at the end.
"It has been hard work, but these couple of days will give us a nice break from the cricket so we're right for Old Trafford."