Bahrain Orders Former Lawmakers Freed From Jail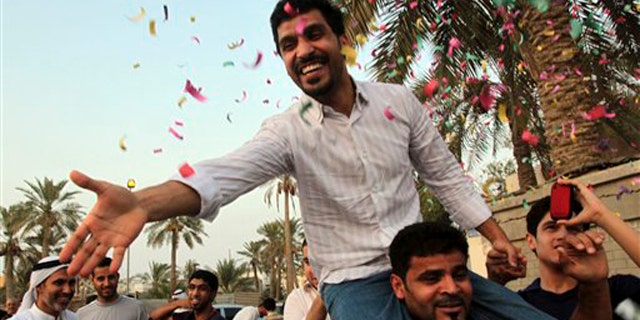 DUBAI – Two former lawmakers from Bahrain's Shiite opposition were freed from jail Sunday along with several other detainees who were arrested in the wake of widespread anti-government protests.
Their release appears to be aimed at diffusing tensions in the small island-country, which hosts the U.S. Navy's 5th Fleet, Washington's main counterweight against Iran's influence in the oil-rich Gulf.
It comes after Bahrain's king accepted a series of political reforms drawn up by a government-sanctioned national dialogue committee created to address grievances that emerged during this year's protests.
The lawmakers, Jawad Fairooz and Matar Matar, told The Associated Press they were set free Sunday afternoon after more than two months in custody. They were arrested in May on anti-state security charges and still face trial.
They have vowed to continue pushing for a greater say in politics.
"I am part of the peaceful opposition that will continue its legitimate demands for meaningful reforms," Matar said after his release.
Both are members of Bahrain's largest Shiite party, Wefaq. They resigned from parliament along with the rest of the Wefaq bloc in February following a government crackdown on Shiite-led protests that were inspired by uprisings elsewhere in the Arab world.
Shiites account for about 70 percent of the kingdom's population, but say they are discriminated against by the minority Sunni monarchy.
Also set free Sunday was Mohammed al-Tajir, a human rights lawyer who has defended a number of activists. He was taken into custody in April.
The official Bahrain News Agency confirmed that the attorney general had ordered the release of former lawmakers, a lawyer and an unspecified number of other detainees, but it did not identify them by name. It said the detainees were released because the time they spent in custody may amount to the sentence they would receive after trial.
The government crushed protests by implementing a series of emergency laws and with the help of foreign troops from neighboring Gulf countries. Activists and rights group say at least 32 people were killed during the unrest earlier this year.
With emergency laws lifted in June, activists and witnesses say large numbers of riot police use sound bombs and tear gas nightly to confront youth protesters. The protesters respond by taunting the police and shouting slogans calling for the downfall of the monarchy. Protesters also occasionally block roads with makeshift barricades in predominantly Shiite areas, said witnesses.
Bahrain's official information office did not respond to an Associated Press query about the ongoing clashes.
Jalal Fairooz, a former Wefaq member of parliament and the brother of one of the released lawmakers, said security forces continue to crackdown on protests, despite the government's reform promises.
"In the majority of the villages there are protests at night, especially (by) the young people, and there is a crackdown by police," he said.