Australia police: Melbourne attacker also planned explosion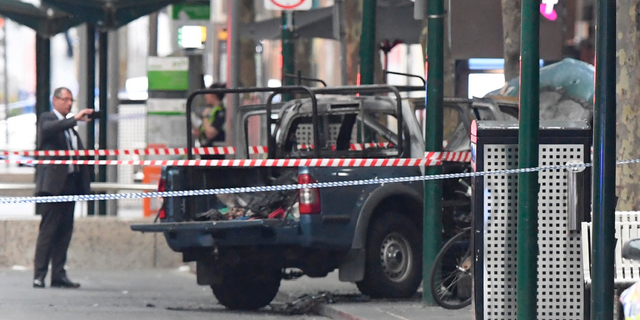 SYDNEY – Australia police said Saturday a man who fatally stabbed another and injured two in what they described as a terrorist attack in central Melbourne had also planned to set off an explosion.
Hassain Khalif Shire Ali, 30, got out of a pickup vehicle, which then caught fire, and stabbed three men, one of whom died at the scene on Friday. The attack horrified hundreds of onlookers during the afternoon rush hour in Australia's second-biggest city.
Victoria state Police Commissioner Graham Ashton said that Shire Ali, who was shot by police and died in a hospital, had also planned for his vehicle to explode, but barbecue gas cylinders in the back of his pickup failed to ignite.
"It looks like he's attempted to ignite a fire in the car, we believe at this stage with a view to igniting those canisters with some sort of explosion, but that didn't eventuate," Ashton told Australia's Channel 9 TV network.
Ashton said Shire Ali, who moved to Australia from Somalia in the 1990s, was known to police and the federal intelligence authority ASIO partly because his brother Ali Khalif Shire Ali faced court this year in Melbourne accused of plotting another attack.
"He's someone that was known to us," Ashton said. "But he wasn't someone we were actively monitoring to that level."
Ashton said Shire Ali had a criminal history for cannabis use, theft and driving offences.
The Islamic State group claimed responsibility for the attack in a statement released through its Aamaq media arm, but provided no evidence. It said the man was an Islamic State fighter and had responded to IS calls for attacks in countries that are part of the international coalition fighting the militants in Syria and Iraq.
IS, which has suffered heavy battlefield setbacks in the past year, often claims attacks without any clear connection.
Police and civilians had tried unsuccessfully to subdue Shire Ali during Friday's attack, before police shot him in the chest.
A man aged 74, who had been stabbed in the face, died at the scene. Two other men, aged 26 and 58, are in a hospital with what police describe as non-life threatening injuries.
The Australian Broadcasting Corp. said police were searching two Melbourne properties on Saturday in relation to the attack. Ashton said, however, that police did not believe there were any ongoing threats to the public.
It's the second time in four years Australia has witnessed militant violence.
In December 2014, a 17-hour siege in which a gunman took 18 people hostage in a Sydney cafe ended with two hostages dead and the assailant killed by police. Though the erratic gunman demanded that police deliver him an Islamic State flag at the outset of the crisis, there was no evidence he had established contact with the militant group. However, at a later inquest, the coroner of New South Wales state said the gunman's actions fell "within the accepted definition of terrorism."
Melbourne was also the scene of two fatal car-ramming incidents last year, but neither was linked by police to terrorism.
Ashton says there is no suggestion Shire Ali was inspired by James "Dimitrious" Gargasoulas, who faced court this week on six charges of murder over the first ramming attack, in January 2017.