Assange's lawyer: Sweden acted improperly in probe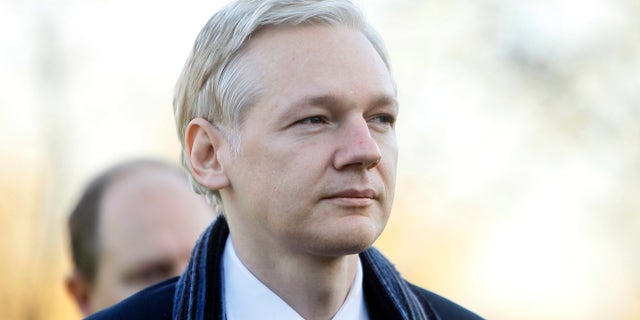 LONDON – The man famous for leaking thousands of secret U.S. military and diplomatic documents just spent two days in court fighting extradition to Sweden and criticizing prosecutors there for allegedly leaking his name to the media in a sex crimes inquiry.
No one in court acknowledged any irony in Julian Assange's efforts to seek the protection of confidentiality. At a testy hearing in a London courtroom, both sides traded pointed remarks Tuesday about the quality of Sweden's justice system.
Lawyers for the WikiLeaks founder say he is the victim of a flawed investigation conducted in the media spotlight and will not get a fair trial in Sweden. He has not been charged in the case and denies all wrongdoing.
A lawyer for the Swedish government, however, said Swedish prosecutors had no choice but to issue an arrest warrant for Assange after repeatedly failing to pin down the elusive Australian for an interview about the allegations.
The argument spilled out onto the lawn outside Belmarsh Magstrates' Court, where Assange accused Marianne Ny, the Swedish prosecutor in charge of his case, of being too afraid to come to a British court to answer questions.
"What we've seen is process abuse after process abuse being revealed for hours and hours," Assange told reporters. "What we have not seen however is the chief prosecutor ... she has refused to come to the proceedings."
Sweden's prosecutor-general, Anders Perklev, issued a statement Tuesday defending both the Swedish justice system and Ny. While Perklev noted that Assange should be considered innocent until proven guilty, he stressed that Ny had a duty to complete the investigation.
"Marianne Ny has acted completely in accordance with her role as a public prosecutor and she obviously has the competence needed for the decisions that have been made in this case," Perklev said.
British Judge Howard Riddle, who has been weighing Assange's fate over two days at a London extradition hearing, told both sides to return Friday for closing arguments.
Assange is wanted for questioning over claims of rape and sexual molestation made by two Swedish women he met during a trip to Stockholm in August. He denies the allegations.
Clare Montgomery, a lawyer acting for Swedish authorities, read a statement from Ny describing how she had made repeated attempts to interview Assange about the allegations while he was in Sweden, to no avail.
In a court document read aloud by Montgomery, Ny said "it must have been crystal clear to Julian Assange ... that we were extremely anxious to interview him."
Montgomery said that even Assange's own lawyer, Bjorn Hurtig, could not contact him for a week, leading prosecutors to conclude that he was a flight risk and should be arrested.
In turn, Assange's lawyers and a defense witness accused prosecutors in Sweden of irregularities and illegalities in the way they built their case. Hurtig said an initial prosecutor "acted against the laws of confidentiality, telling one of our tabloid newspapers that Julian was suspected of rape." He said prosecutors and police had leaked details of the case to the media.
Assange's lawyers argue that the global publicity around the case and the Swedish custom of hearing rape cases behind closed doors mean he would not get a fair trial. His attorney, Geoffrey Robertson, said closed-door hearings would be "a flagrant denial of justice."
Defense attorneys have sought to paint the behavior of Swedish prosecutors as unreasonable. Sven-Erik Alhem, a former chief prosecutor in Sweden appearing as a defense witness, said Ny "should have made sure Assange was able to give his version of events in detail" before issuing an arrest warrant.
Assange is accused of sexually assaulting one woman and raping another by having sex with her while she was asleep during a weeklong visit to Stockholm last August. In Swedish law, sex with a person who is asleep can constitute rape.
The defense says Assange had consensual sex with his two accusers and has not committed any crime.
In court, Hurtig cited tweets and text messages sent by the accusers, which he said talked of "revenge, gaining economic advantage, having contact with the media to give him a bad name in the press."
In one, the woman who told police she was asleep during sex "said she was half asleep, which to my mind is the same thing as saying you are half awake," he said.
Assange's wide-ranging arguments against extradition also include claims that he could eventually be extradited from Sweden to the United States and even sent to the detention center at the U.S. Navy base in Guantanamo Bay, Cuba.
However, Alhem appeared to undermine that argument when he said that it was not possible for Assange to be sent from Sweden to the U.S. on the current European Arrest Warrant.
Assange, wearing a blue suit, sat in the dock at London's high-security Belmarsh Magistrates' Court, watching attentively and taking notes throughout the hearing.
WikiLeaks touched off an international uproar when it released classified helicopter video showing a U.S. attack that killed two Reuters journalists in Iraq. It later began publishing tens of thousands of U.S. military documents on the wars in Afghanistan and Iraq, and classified U.S. diplomatic cables whose revelations angered and embarrassed the U.S. and its allies.
American officials are trying to build a criminal case against WikiLeaks. Assange's lawyers claim the Swedish prosecution is linked to the leaks and politically motivated — a claim Sweden strongly denies.
Assange was arrested in London in December after Sweden issued a warrant on rape and molestation accusations. He was released on bail on condition that he live — under curfew and electronically tagged — at a supporter's country mansion in eastern England. Since then, Assange has still conducted media interviews and signed a reported $1.5 million deal for a memoir.
___
Associated Press reporters Malin Rising and Karl Ritter in Stockholm and Sylvia Hui in London contributed to this story.