Armed police await WikiLeaks' Julian Assange embassy ouster as officials say no decisions made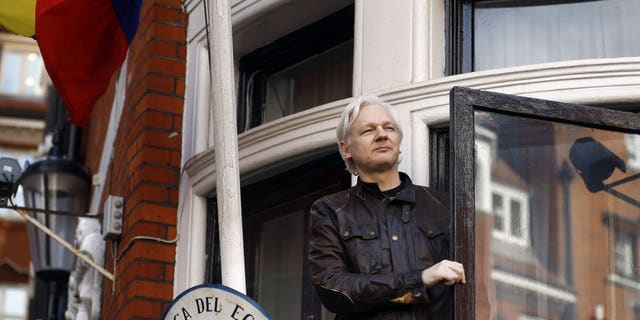 British police stationed armed officers outside the Ecuadorian Embassy in London on Friday following tweets from WikiLeaks that Julian Assange could be evicted from the building within "hours to days."
The exact status of Assange remained unclear though, with some Ecuadorian officials saying there has been no decision on the WikiLeaks founder's future at the embassy.
British Foreign Secretary Jeremy Hunt insisted Assange is a "free man" and is allowed to leave the embassy at any time, but many fear that once Assange steps foot outside the building, he will be detained by the authorities.
CHELSEA MANNING IN CUSTODY AFTER REFUSING TO TESTIFY BEFORE FEDERAL GRAND JURY IN WIKILEAKS PROBE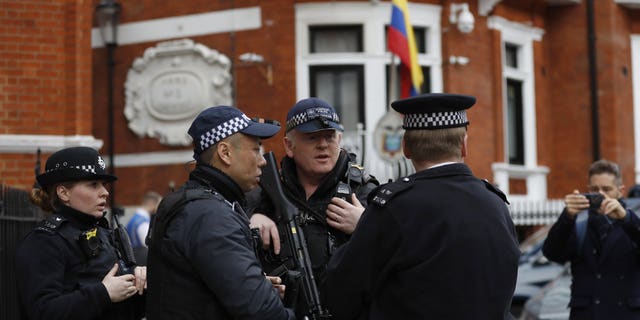 Police admitted that there's an active warrant for Assange's arrest, hence the forces outside the embassy, and that the police are "obliged to execute that warrant should he leave the Embassy."
The police deployment outside the embassy follows a tweet by WikiLeaks in which a high-level source within the Ecuadorian government said Ecuadorian President Lenín Moreno is seeking to oust Assange.
"BREAKING: A high level source within the Ecuadorian state has told @WikiLeaks that Julian Assange will be expelled within 'hours to days' using the #INAPapers offshore scandal as a pretext--and that it already has an agreement with the UK for his arrest," WikiLeaks tweeted.
Assange has been in the embassy since August 2012 for the fear of being extradited to the U.S. for publishing thousands of classified military and diplomatic cables through WikiLeaks.
ECUADOR PRESIDENT BLAMES WIKILEAKS FOR LEAK OF PRIVATE DATA
The Ecuadorian government neither confirmed nor denied the potential plans in a statement issued on Thursday, saying it won't comment on "rumors, theories or conjectures."
Yet a top official close to the president said that while Moreno was upset that his personal communications were apparently hacked – prompting the accusations that WikiLeaks were behind the allegations of offshore corruption – the president denied that a decision was made to expel Assange from the embassy.
CLICK HERE FOR THE FOX NEWS APP
On Friday, WikiLeaks reiterated the opposition against the expulsion of Assange, saying it would be a violation of international law on refugees, while denying the role in the allegations against Moreno.
The Associated Press contributed to this report.