Anti-gay killer, who used victim's blood to scrawl Hitler message, captured after 18-year pursuit, cops say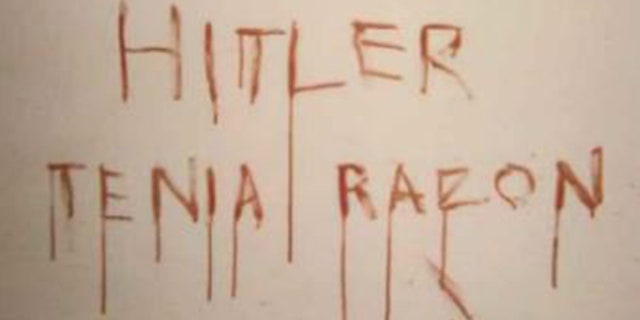 A man accused of killing a gay man in Spain and afterward using the victim's blood to scrawl a twisted pro-Hitler message on the wall was captured in Colombia after an 18-year pursuit, police said Tuesday.
The Mossos d'Esquadra said the incident dates back to March 2000 when the suspect – who they did not identify – and the 45-year-old victim met for drinks after connecting through a sex ad in the local press.
After a night of drinking, the duo went back to the Montgat, Barcelona apartment of an elderly man in the victim's care, according to El Pais newspaper.
AT LEAST 257 DEAD IN ALGERIAN PLANE CRASH AS WITNESS REPORTS VICTIMS JUMPING OUT OF AIRCRAFT
Hours later, the elderly man's son found the victim, naked and stabbed to death, lying in a pool of blood with a plastic yellow flower carefully wrapped around his ear. On the wall, authorities found "Hitler was right" and "K.K.K," referring to the white supremacist Ku Klux Klan group, written in the victim's blood.
El Pais identified the victim as Vitervo A. V., who was Ecuadoran.
Authorities said the suspect, who they described as a homophobic ex-militant, cleaned up his footprints and any DNA evidence he may have left behind before fleeing the apartment.
The investigation stalled until three years later, when someone called the victim's cousin and made her listen to a recording, Mossos reported.
She told authorities she heard what seemed to be her cousin's voice pleading to someone not to kill him. Additionally, she told police she found flowers on her cousin's grave that neither she nor any other relative had deposited.
UK'S MAY SAYS SYRIA CHEMICAL WEAPONS CAN'T GO UNCHALLENGED
Inquiries into the phone call uncovered apparent connections to drug trafficking but no clear indication to the murder. The trail ran cold.
In 2016, a judge ordered the case reopened and the Civil Guard focused its investigation on several people who were connected with drug trafficking and pinning them to the victim's cellphone records.
During the course of the investigation, agents began to focus on a man with a history of sexual aggression accusations and who had left Spain to move to his native Colombia in 2009.
Officials said the suspect's MO in the other cases was similar to the murder in Montgat – going out for drinks and threatening victims with a knife. One accuser, a woman, said she pleaded for her life during the attack.
Additionally, police said someone using a phone in the elderly man's apartment called a number of a sex ad in the local paper just four days before the murder. That number led them to a home in Vilafranca de Penedes, about 43 miles away from the scene of the crime.
ALLEGED 'POTTED-PLANT SERIAL KILLER' HIT WITH SEVENTH MURDER CHARGE
Police said the suspect, who was married to a woman at the time, was among several people who had lived in that home.
Speaking to people close to the alleged suspect, Mossos learned the man had been a soldier in Colombia and even enlisted in the Spanish army for a year. Witnesses told authorities the suspect believed in Nazi ideology and reportedly boasted about killing a homosexual in Barcelona.
A judge ordered Mossos to work with Colombian authorities, and, on Sept. 2, the suspect was arrested. He is still awaiting extradition to Spain.