American accused of stealing terra-cotta warrior's thumb must be 'severely' punished, China says
China is reportedly demanding a 24-year-old American man face "severe punishment" for allegedly snapping off the left thumb of a $4.5 million ancient terra-cotta warrior statue on display at a Philadelphia museum.
Michael Rohana was charged with theft and concealment of a major artwork last week and released on bail, the BBC reported. The director of the Shaanxi Cultural Heritage Promotion Center, which loaned the sacred statues to the Franklin Institute, lashed out at the museum, however, for its "careless" guarding of the prized archaeological find.
"We ask that the U.S. severely punish the perpetrator. We have lodged a serious protest with them," Wu Haiyun said, according to the BBC.
Rohana, from Delaware, was attending an Ugly Sweater Party at the Franklin Institute on Dec. 21 when he entered the "Terra-cotta Warriors of the First Emperor" exhibit, according to an arrest affidavit.
Rohana proceeded to take selfies with the 2,000-year-old statue, known as "The Calvaryman," then snapped off the left thumb and walked away, authorities said. The museum noticed the missing thumb on Jan. 8 — more than two weeks after the alleged incident — and reported it to police.
Police arrested Rohana five days later.
Wu said he "strongly condemned" the Philadelphia museum and added two experts should be sent there to evaluate the damage done and reattach the thumb. The center is also seeking compensation for the damage.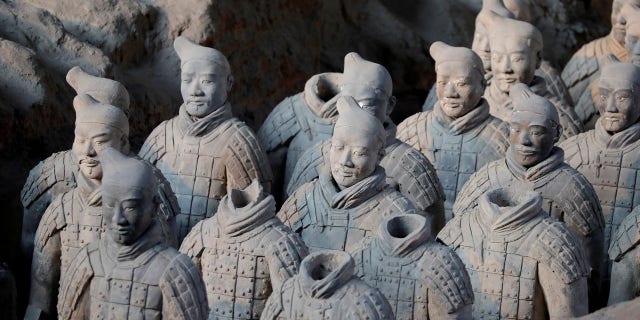 A Franklin Institute spokeswoman said previously the statue will be repaired, adding that a security contractor did not follow standard procedures the night of the alleged theft.
The museum currently holds 10 of the statues that's part of a collection of 8,000, according to the BBC. The Terra-cotta Army, made of clay and built by Qin Shi Huang in the Qin Dynasty before he died in 210 B.C., were discovered in 1974.
The life-sized statues are considered one of China's most prized archaeological discoveries.
The Associated Press contributed to this report.