'Affluenza' teen hires same Mexican lawyer who helped ex-U.S. Marine Tahmooressi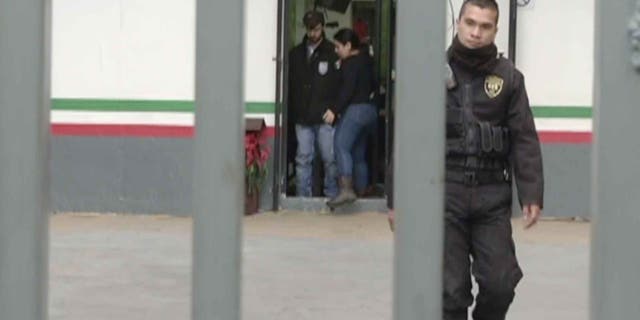 Ethan Couch, the Texas teenager known for using an "affluenza" defense in a fatal drunken-driving accident, has hired Fernando Benitez, a high-profile lawyer both loved and loathed in and around Tijuana.
Benitez became a local celebrity when he successfully defended a former city mayor who was facing weapons charges. His notoriety crossed into the U.S. border when he took the case of former U.S. Marine Andrew Tahmooressi, who in 2014 unintentionally entered Mexico while carrying three registered firearms. Amid growing pressure from American lawmakers, Tahmooressi was released with the help of Benitez after more than seven months in a Tijuana prison.
Now Benitez is the brains behind the defense of Couch, the 18-year-old on the run since November after allegedly violating his parole.
Authorities believe the teen fled to Mexico with his mother, Tonya Couch, as prosecutors investigated whether he had violated his probation. Both were taken into custody last week after authorities said a phone call for a pizza delivery led to their capture in the Mexican resort city of Puerto Vallarta.
Benitez could not be reached for comment. He tweeted on Monday that he would make no further comments on the case.
"No further statement nor comment regarding my client's immigration case in Mexico will be issued; no interviews either," he tweeted after speaking to BBC and the Associated Press.
The younger Couch is being held at a detention center in Mexico City while his mom was deported last week and remains under U.S. custody.
According to Benitez, who was set to meet with his client on Tuesday afternoon, Mexican officials wrongly used a deportation proceeding instead of the longer extradition process the Couch case calls for.
Extradition requires Mexico's Foreign Ministry to accept a formal request from the U.S. government to extradite a person. The request, and the evidence against the defendant, is then evaluated by a Mexican court in a much more lengthy process.
"They wanted to use a 'fast-track' process," Benitez said of the deportation of Couch and his mother, Tonya, who was put on a flight back to the United States.
"They said this guy didn't stamp his passport on the point of entry so we are going to kick him out," Benitez told the BBC. "In a sense, what is happening is that they are using deportation in lieu of extradition. I'll bet you a million dollars that 99.9 percent of the tourists in Puerto Vallarta as we speak did not stamp their passport — are you going to deport all of them, too?"
Ethan Couch, who received only probation for the wreck in Texas that killed four people, fled to Mexico with his mother in November.
Benitez stressed that he wasn't judging Couch's guilt or innocence, but only assuring that he had an equal defense before the law.
"What we are interested in is that things be done correctly," the attorney said. "It is not our place to judge people."
Ethan Couch is being held at the Agujas immigration detention center, where his wealthy upbringing may not have prepared him for the common sleeping areas and bathrooms and concrete wash basins for hand-washing clothes.
The white-washed, high-fenced facility usually houses several dozen immigrants, mainly Central Americans.
Couch is sleeping on a cot or bunk in a semi-open bedroom shared with two or three other detainees. Unarmed immigration guards patrol the unit, and a closed-circuit camera system is constantly filming in most area other than the common bathrooms. Armed guards are posted at the outside gates and walls.
Immigration officials say that along with three meals a day, Couch has access to TV and movies in one of the austere common rooms or can go to an outside patio where there is a basketball court and small soccer field.
He will have unlimited access to telephones and access to medical, dental and psychological care.
The AP contributed to this report.
Like us on Facebook
Follow us on Twitter & Instagram