About 100 injured, some critically, after New Jersey commuter train crashes into rail station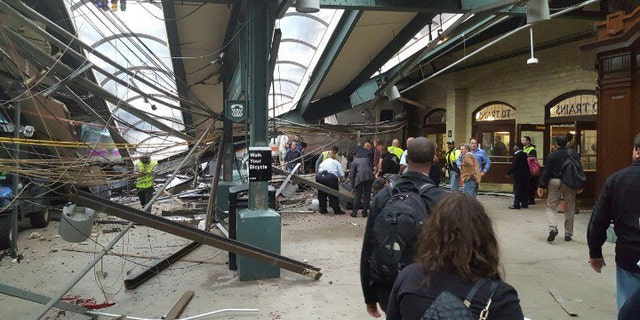 HOBOKEN, N.J. (AP) – A crowded rush-hour commuter train crashed through a barrier at the busy Hoboken station and lurched across the waiting area Thursday morning, killing at least one person and injuring more than 100 others in a tangle of broken concrete, twisted metal and dangling cables, authorities said.
People pulled concrete off bleeding victims and passengers kicked out windows and crawled out amid crying and screaming after the arriving New Jersey Transit train ran off the end of its track. It apparently knocked out pillars as it ground to a halt in a covered waiting area, collapsing a section of the roof onto the first car.
Ross Bauer, an IT specialist who was heading to his Manhattan job from his home in Hackensack, was sitting in the third or fourth car when the train was pulling into the historic 109-year-old station for its final stop.
"All of a sudden, there was an abrupt stop and a big jolt that threw people out of their seats. The lights went out, and we heard a loud crashing noise — like an explosion — that turned out to be the roof of the terminal," he said. "I heard panicked screams, and everyone was stunned."
Gov. Chris Christie said one person was killed. Of the more than 100 others injured, 74 of them were hospitalized, according to NJ Transit and area hospitals.
The National Transportation Safety Board sent investigators to the scene. They will want to know what the operator was doing before the crash and whether the person was distracted, said Bob Chipkevich, who formerly headed the NTSB train crash investigations section.
William Blaine, an engineer for a company that runs freight trains, was inside the station when the train crashed and ran over to help. He walked over to the heavily damaged first car with a transit employee to check on the train's engineer and said he found him slumped over the controls. The engineer's condition wasn't immediately clear.
The Hoboken Terminal, which handles more than 50,000 train and bus riders daily, is just across the Hudson River from New York City. It is the final stop for several train lines and a transfer point for many commuters on their way to New York City. Many passengers get off at Hoboken and take ferries or a PATH commuter train to New York.
None of NJ Transit's trains are fully equipped with positive train control, a safety system designed to prevent accidents by automatically slowing or stopping trains that are going too fast. The industry is under government orders to install PTC, but the deadline has been repeatedly extended by regulators at the request of the railroads. The deadline is now the end of 2018.
Jennifer Nelson, a spokeswoman for NJ Transit, said she didn't know how fast the train was going when it crashed through the bumper. Rail service was suspended in and out of Hoboken.
Passenger Bhagyesh Shah said the train was crowded, particularly the first two cars, because they make for an easy exit into the Hoboken station. Passengers in the second car broke the emergency windows to get out.
"I saw a woman pinned under concrete," Shah told WNBC-TV in New York. "A lot of people were bleeding; one guy was crying."
Brian Klein, whose train arrived at the station after the crash, told The Wall Street Journal that transit police ushered everyone aboard his train into a waiting room, "then quickly started yelling, 'Just get out! We don't know if the building is going to hold.'"
The train had left Spring Valley, New York, at 7:23 a.m. and crashed at 8:45 a.m., said NJ Transit spokeswoman Nancy Snyder.
More than 100,000 people use NJ Transit trains to commute from New Jersey into New York City daily.
A crash at the same station on a different train line injured more than 30 people in 2011. The PATH commuter train crashed into bumpers at the end of the tracks on a Sunday morning.
The Hoboken Terminal, which was built in 1907 and is listed on the National Register of Historic Places, has undergone waves of restoration, including a major project launched by NJ Transit in April 2004 that largely restored the building to its original condition. The station was extensively damaged during Superstorm Sandy in 2012 and underwent major repairs.