A top Yemeni politician: Shiite rebels press for integration of their militia into army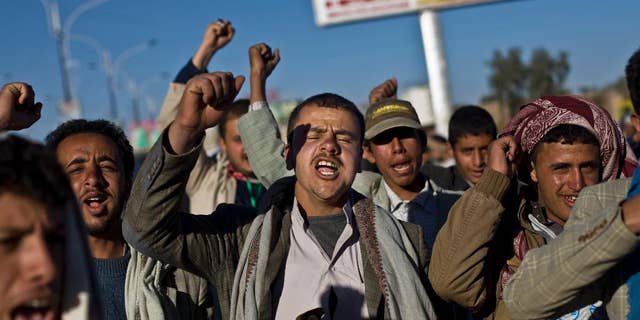 NEWYou can now listen to Fox News articles!
SANAA, Yemen – A senior Yemeni politician says Shiite rebels in control of the capital, Sanaa, are demanding their militia becomes part of the country's army and police as a precondition for talks on releasing nation's president and Cabinet members from house arrest.
The development is the latest in the power grab by the rebel Houthis who also control all major government buildings in Sanaa and several key military facilities.
Abdullah Noaman said on Monday that his Nasserite Party pulled out of U.N.-brokered talks the day before, after the Houthis demanded that their 20,000-strong militia join the country's military and security forces as a precondition to any kind of deal.
The Houthis gave Yemeni political factions on Sunday a three-day ultimatum to reach an agreement, otherwise they said they'll take over themselves.