A caravan of Central American mothers searches for missing children in Mexico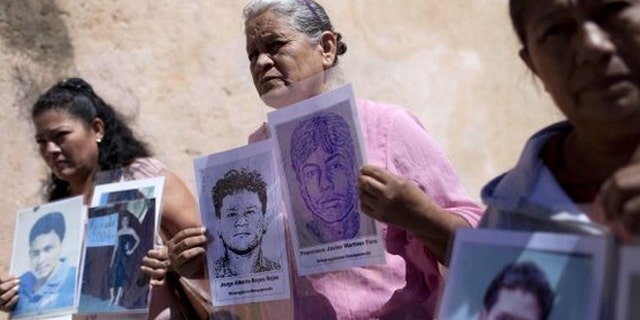 NEWYou can now listen to Fox News articles!
Thursday morning a group of forty-some mothers crossed the border at El Ceibo, Mexico, from the Petén region of Guatemala. Each of them bears one or more photographs of children who set out on the long trip north to the United States but hasn't been heard from.
They are the tenth Caravan of Mothers of Disappeared Migrants, and they hope to find some trace of their sons and daughters.
"They will be travelling by bus along the route migrants take for the next 17 days," Rubén Figueroa, a regional coordinator in Mexico of the Mesoamerican Migrant Movement (MMM) which sponsors the caravan, told Fox News Latino. "They'll make 23 stops in 10 different states in Mexico."
According to the Guatemalan newspaper, Prensa Libre, there are 48 mothers making the trip—20 Hondurans, 16 Salvadorans, 7 Guatemalans and 5 Nicaraguans—three more than the last caravan, which took place in December 2013.
Figueroa, couldn't confirm the number of this year's participants, but he did mention that nine of the Central American mothers who came to Mexico were able to make contact their children or people who knew where to find them. And a few more were able to take home with them news for other mothers back home who hadn't been able to make the trip.
"The terrible thing is that migrants have a bull's-eye on them in terms of being the targets of organized crime groups and corrupt authorities," he told FNL. "Disappearances, kidnapping, extortion, rape, forced recruitment into criminal gangs."
And the Mexican authorities, Figueroa said, "have no interest in protecting migrants."
Figueroa, 32, who spent five years as an undocumented minor in North Carolina, pointed out how some government actions, like placing armed guards on the freight train nicknamed "La Bestia" in order to keep migrants off, has unintended negative consequences.
"Forcing migrants to take alternate routes that are controlled by criminal organizations actually increases human trafficking," he said. "The problem is that there's no attempt at a real solution to the problem."
Referring to the disappearance of 43 students from a teachers' college in Guerrero, Figueroa added, "These women are coming here at the worst time in Mexican history in terms of human rights to look for their children. They are a symbol of the fight for human rights – and of hope."