95 percent of UK burglaries and robberies not solved, data suggest
Authorities in the United Kingdom have pledged to work harder at bringing criminals to justice after figures show that 95 percent of robberies and burglaries are not being solved.
The Metropolitan Police said they were putting a "huge amount of effort" into tackling the uptick in crime related to the theft of motor scooters, reports the Guardian.
The British publication reports that burglary is particularly challenging for authorities and that people are fearful about a "wave of criminality" in certain parts of the country.
An increased supply of crack and cocaine has been cited as causing the surge in murders and robberies in Britain.
London has seen more than 70 murders so far this year, surpassing New York City's murder rate for the first time in February, and the Times of London reports that there have been on average 60 moped muggings in the British capital each day over the last year.
BRITAIN'S VIOLENT CRIME WAVE TIED TO SURGE IN CRACK, COCAINE REPORT SAYS
Home secretary Sajid Javid on Sunday said he fell victim to thieves on a motor scooter who stole his phone, reports the Guardian.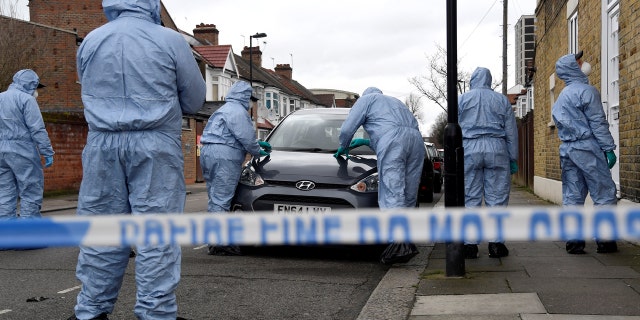 Scotland Yard said its London sanction detection rates — how it measures cases that are solved — were 5.5 percent for burglary and 7 percent for robbery between April 2017 and April 2018.
That, compared with an overall rate of 13.2 percent for all offenses included in the statistics.
"Solving crime is a key priority for the Met and we are committed to doing all we can to cut crime, pursue offenders and support victims to make London even safer," a spokeswoman told the Guardian.
National police data show the proportion of suspects who are caught and punished for all crimes has more than halved to 9 percent over the past five years, according to the Sunday Times.
The figures also suggested only 4 percent of robberies were solved in England and Wales in 2017, compared with 9 percent in 2013. The burglary detection rate halved from 6 percent to 3 percent in the same period.