61 Killed in Bomb Attack on Iraqi Army Recruits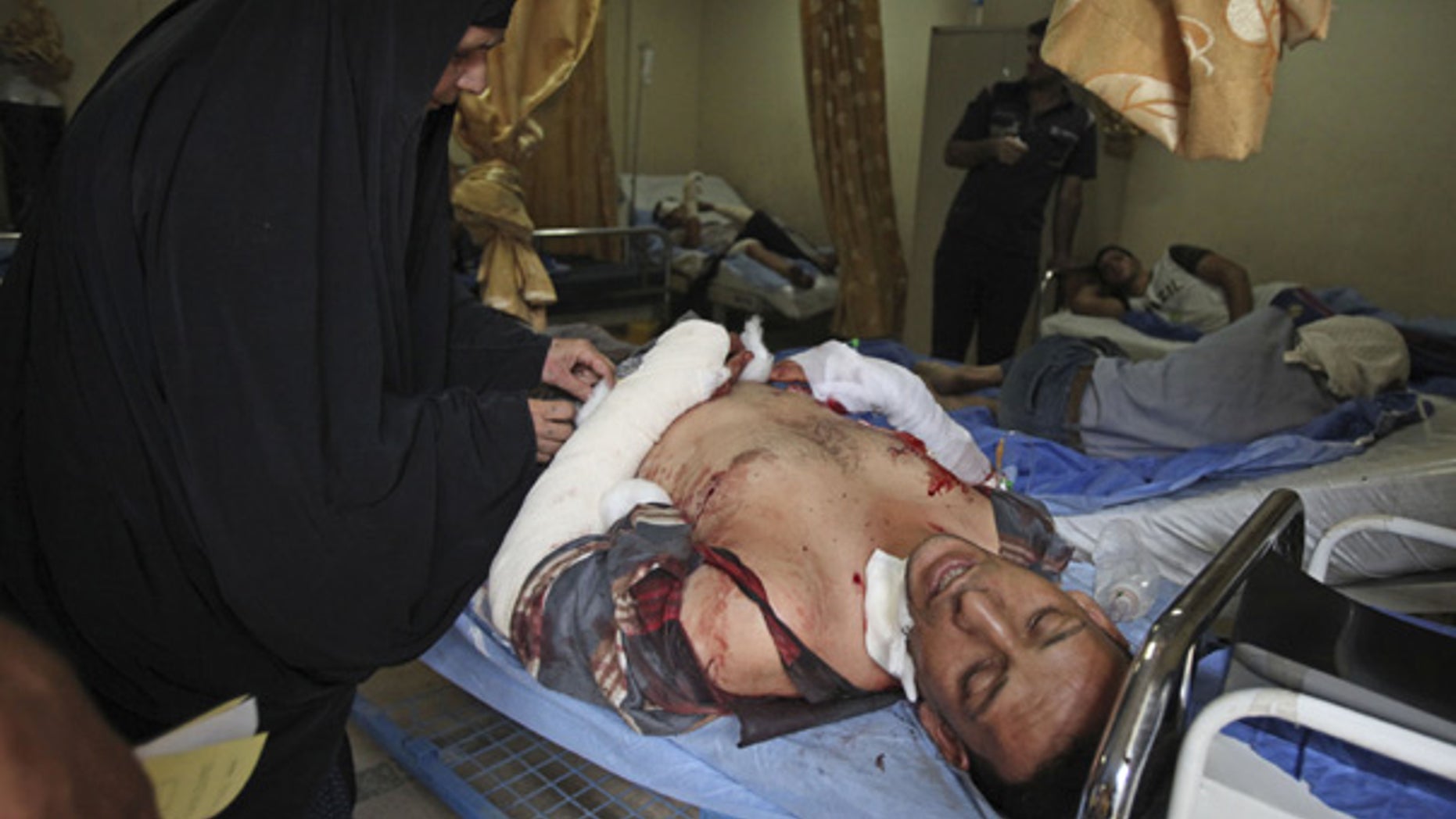 BAGHDAD -- A homicide bomber sat for hours Tuesday among hundreds of unprotected army recruits before detonating nail-packed explosives strapped to his body, killing 61 people and casting new doubt on the ability of Iraqi forces as U.S. troops head home.
Bodies of bloodied young men, some still clutching job applications in their hands, were scattered on the ground outside the military headquarters in central Baghdad. Some of the estimated 1,000 men who had gathered there before dawn for a good spot in line were so desperate for work they returned hours after being treated at hospitals for injuries in the attack.
Though Iraq's military and police recruiting centers have been attacked repeatedly, there was virtually no security provided for the hundreds of men seeking to hand in applications on the last day of a nine-day recruitment drive at the headquarters for the Iraqi army's 11th Division.
The bomber, it appears, simply walked up and joined the applicants. Witnesses said he approached an officer collecting I.D. cards and set off a blast that split his own body in two.
"Severed hands and legs were falling over me. I was soaked with blood from the body parts and wounded and dead people falling over and beside me," said Yasir Ali, who had been waiting outside the military headquarters since 4 a.m.
After washing the blood off himself, Ali was among those who came back to try to retrieve applications and other documents left in the panic and see if they could still apply.
But police had sealed off the area.
"I will stay here until I find the documents. I won't go home," Ali said. "I will insist on getting the job because where else do I go to get one?"
Tuesday's attack was one of the bloodiest bombings in months in the Iraqi capital and was an embarrassment for Iraq's military as it tries to reassure the nation it can fill the gap left by America's departing military. At the end of this month, U.S. troops will number just 50,000 and will be involved only in limited combat operations.
The White House condemned the bombing, but said it will not halt either Iraq's transition to democracy or the U.S. troop withdrawal.
"There obviously are still people who want to derail the advances that the Iraqi people have made toward democracy," Deputy Press Secretary Bill Burton told reporters aboard President Barack Obama's plane as Obama headed for a day of politicking in Washington state. "But they are firmly on track."
Iraqi military spokesman Maj. Gen. Qassim al-Moussawi blamed Al Qaeda in Iraq for the attack and acknowledged that the lack of protection for the recruits was a "mistake."
"We couldn't get another place for the recruits," al-Moussawi said, explaining why the army used an open and unprotected site in central Baghdad's Maidan Square to gather them.
"It was difficult to control the area because it's an open area and because of the large number of recruits," he said.
Tuesday's blast took place around 7:30 a.m. outside the former Ministry of Defense building, which now houses the army's 11th division headquarters.
The location normally receives about 250 new recruits each week, but numbers swelled Tuesday because of the deadline for applications.
Despite the risks, many Iraqis are lured by the prospect of a steady paycheck to join the security forces. After years of war, there are few jobs to be had -- Iraq's unemployment rate is estimated to be anywhere from 15 and 30 percent.
It's a dangerous job. Between January and July, 378 Iraqi security personnel were killed, according to the Health Ministry. Over the same period last year, suspected insurgents killed 616 Iraqi policemen and soldiers.
Iraqi security forces have been trying to boost their numbers as the U.S. military leaves the country after seven years of war. Whether Iraqi forces are ready is being hotly debated by American and Iraqi officials.
Iraq's military commander, Gen. Babaker Shawkat Zebari, acknowledged last week that his army may not be ready to defend the nation until 2020.
Recognizing the weaknesses, insurgents have intensified attacks on Iraqi army, police and other security forces in recent weeks.
Officials at four Baghdad hospitals confirmed the death toll of 61 and said 125 others were injured. All spoke on condition of anonymity because they were not authorized to talk to the media.
Al-Moussawi, the military spokesman, put the casualty count at 39 killed and 57 wounded. Varying casualty counts are common in the confusion after attacks.
This summer in particular has seen a spike in violence in Iraq. Data from the Iraqi defense, interior and ministry officials show that July marked the bloodiest month since May 2008, with more than 500 killed, although tallies compiled by The Associated Press and the U.S. military were lower.
In a similar attack last month, a suicide bomber ripped through a line of anti-Al Qaeda Sunni fighters waiting to collect their paychecks near an Iraqi military base, killing 45 people in the mostly Sunni district of Radwaniya southwest of Baghdad.