WWI-era cannon returns to California veterans hall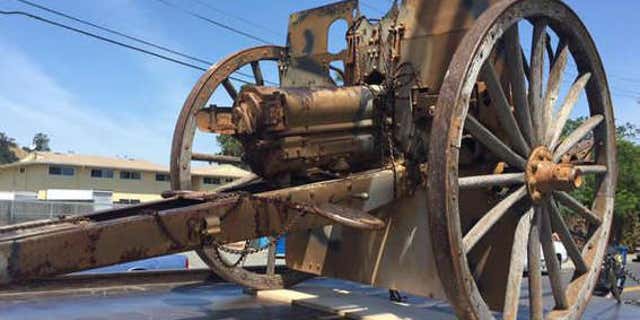 Authorities in California said Friday that a World War I-era cannon was returned to the Bay Area veteran's hall it was stolen from earlier this month.
The Los Angeles Times reported, citing the Richmond Police Department, a Martinez man saw the news story about the stolen cannon and realized he had bought it for $1,200 a few days ago. The man contacted police and returned the cannon.
"This gentleman was more than helpful and felt absolutely horrible he had inadvertently bought a stolen piece of American history," police said in a statement.
The cannon called the Veterans Memorial Hall in Richmond home for almost 70 years before it was stolen in the early morning of May 1.
Richmond Police spokesman Lt. Felix Tan said the cannon is worth around $1,500 if the materials had been used for recycling, but because it's a historical "artifact" it is priceless.
"This act is about stealing a piece of our country's history, and stealing from our war veterans who fought bravely for our country and our freedom," police said.
Surveillance footage captured the thieves towing the cannon in a pickup truck. However, suspects in the burglary haven't been identified and police are still investigating.